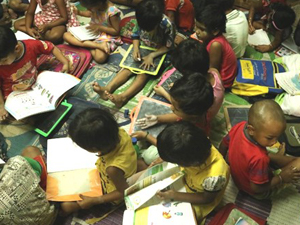 Children are busy with their homework at the CFLRC
When you walk into Kolkata's largest red-light area, you will end up in an open space with some colorfully painted walls. The paintings have an elephant dancing with a horse and other such curious images. There is a temple with a community hall at one end, and World Vision India's Child Friendly Learning and Recreation Center (CFLRC) at the other.
As it gets dark, women who are engaged in prostitution, walk with their children and drop them off at the CFLRC. Two rooms side to side will provide shelter, education and a few healthy snacks for about sixty children.