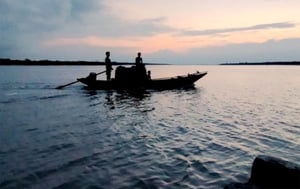 The Sundarbans are made of mangrove islands, separated by rivers that merge into the ocean. Known for the Bengal tiger, these mangroves are as beautiful as they are dangerous. On one such isle lives 14-year-old Urvasi* with her uncle. She lost her father from a tiger attack and her mother from an unknown illness.
On a moonlit night, Urvasi decided to elope with a local doctor by boat. She had a strained relationship with her uncle's family. If you were the romantic type, you might guess that she was choosing a better life for herself except Urvasi is underaged, and the 37-year-old man is not actually a doctor. This was not romantic elopement – it was grooming for child marriage.
Bina, 15, lives next door to Urvasi. "While I was passing her home, I heard murmurs that Urvasi was missing," says Bina. Bina knew Urvasi was a vulnerable orphan who had trouble fitting in. She noticed that Urvasi was not attending their 'Nanda' Girl Power Group (GPG) meetings and she knew what to do when a girl goes missing. She and her friend, Rupa, contacted World Vision's community volunteer and immediately filed a complaint on the child helpline.
When meeting with the Nanda members, the girls explained how anxiety has set in during COVID. "We are all tense about school and exams and what will happen in the future," says 15-year-old Rupa. Many of the girls have more domestic work to do and sometimes, their parents take them to work in the agricultural fields.
The GPG study 16 modules together to learn personal safety, health changes and their rights. The GPG meetings have continued online during this pandemic, focusing on keeping safe by washing hands, wearing a mask and social distancing. Some of these online classes also deal with mental health issues that arise during this time. Girls who did not have access to the internet could dial into a conference call.
Even though most of the girls have friends of the opposite sex, these girls have firm opinions about elopement and marrying young. "Before the age of 18, we should not marry because our bodies are still not fully developed for pregnancy," says Bina. "Our body and mind are not mature enough for marriage. We need maturity to deal with a family. Our education will be spoiled (as well)," says Rupa. "We would advise a girl who wants to elope that it is better if you don't get married now. The Indian government does not permit it and it will become a legal issue," says Rekta, another member.
The girls did their job by reporting Urvasi's disappearance. However, the COVID pandemic has led to a spike in child protection cases and the official channels were overwhelmed. World Vision stepped in to help by speaking to the village level Child Protection Committee. Since the child helpline complaint was filed, World Vision escalated the case to the State Child Protection Unit. The police raided the 'doctor's' house but they did not find anybody. Everyone ran, fearing police reprimand. A few days later, Urvasi came to the police station on her own. Urvasi went through a medical exam at the hospital and was sent to a shelter home. Police are still searching for the perpetrator, who has left town.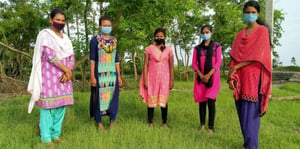 Members of the Nanda Girl Power Group
"We were very happy when we found out that Urvasi had been rescued," says Rupa. Thanks to the GPG and World Vision's efforts, Urvasi was found. Hopefully this signals a warning to perpetrators—that even in the pandemic, the girls have protection. (*Name changed to protect her identity)