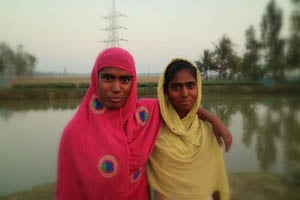 Jamila is the leader of the Jorna (Bengali for "waterfall") Girl Power Group (GPG). The GPG meets every Sunday afternoon and they dutifully sign their names in a register. "In case some girls don't show up, we go to their homes to check on them," says Jamila. World Vision helped launch Girl Power Groups to help ensure girls do not go missing.
Much to Jamila's horror, one day it was her own sister Salima who was missing. Jamila shares, "There were tears in my eyes. My sister was gone. We were always together. My only sister."
Salima's disappearance should not have happened because she too, was a part of the GPG.
Personal safety is one of the many things taught in the GPGs. Rohima, a member says, "[How] does trafficking take place? The boy might ask you to elope with him. He might ask you to get on his bike." Jamila continues, "Don't get married young. It's those girls who are vulnerable to trafficking." Jamila says they teach new members how to take care of themselves and their own personal safety.
The day Salima disappeared was Durga Puja, a Hindu festival where many people gather from far and wide. "My brother and sister had gone to the Madrassa, [the Islamic school]. When my brother came home, I asked him, 'Where is Sister?'" Jamila says. He did not know and thought she would be home by now. They searched a few homes she often visited. Meanwhile, an uncle called to say he had seen Salima on the village bridge with two boys and a neighbor's daughter, who had recently returned from out of town.
Jamila, her parents and a World Vision's facilitator went to talk to the neighbor and learned her daughter had recently returned from Delhi. This triggered panic in everyone, because the last girl trafficked from the village was recently rescued from Delhi. The neighbor called her daughter and told her that if she did not say where she and Salima were, there was a group of people at their door who would take her to the police station.
Meanwhile, Salima's uncle went back to the bridge. Lo and behold, Samila was walking back onto the bridge with the neighbor's daughter. It was dark and she had been missing the whole day. The two boys had left.
Salima shared that the girl who had attempted to traffic her had asked her if they could be friends. That day after school, she asked Salima to accompany her as she went to the bank. On the way, two boys on motorbikes joined them. Later the police learned that the girl had photos of Salima and other girls on her phone.
"They were trying to force me to sit on the boy's bike and I refused," says Salima. Being a part of the GPG actually helped her from being trafficked because it was here that she had learned: "How does trafficking take place? The boy might ask you elope with him. He might ask you to get on his bike."
In the end, the lessons learned through the GPG were the tools that helped save Salima.