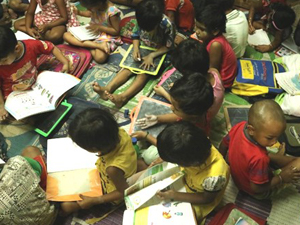 Children are busy with their homework at the CFLRC
When you walk into Kolkata's largest red-light area, you will end up in an open space with some colorfully painted walls. The paintings have an elephant dancing with a horse and other such curious images. There is a temple with a community hall at one end, and World Vision India's Child Friendly Learning and Recreation Center (CFLRC) at the other.
As it gets dark, women who are engaged in prostitution, walk with their children and drop them off at the CFLRC. Two rooms side to side will provide shelter, education and a few healthy snacks for about sixty children.
The noise increases to a pleasant buzz of children reading and talking to each other, with the occasional sound of the teacher calling out the name of a child - perhaps to inspect their homework. To light up this space, two large lights are mounted on the corners where the electric poles stand. Many moths are swarming the lights, being a minor irritant to Neha* as she walks up to the small bench placed outside the CFLRC.
Neha* is the mother of three boys and a girl. The three boys, Tarun*, Aakash* and Swaroop* are of ages 8, 13 and 14 respectively. The girl, Sita*, is 10 years of age and is in a hostel at the present moment. "Somehow, at any cost, my daughter should not be here," says Neha.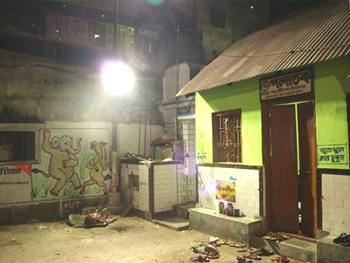 The play area of the CFLRC
Neha is very aware that children, especially girls, who live in red light areas are very vulnerable. There is a pattern of young girls following in their mother's footsteps, entering relationships of abuse, both physical and sexual. Neha pays for her daughter's hostel and education and takes care of her sons. She is working in prostitution in order to provide for her family. Her health is declining and working is becoming more difficult.
When asked if the CFLRC has helped her kids, Neha shares that her children are safe and learning. Being uneducated herself, Neha really appreciates the education being offered. "My children taught me how to sign my name," she says. A smile briefly appears on her face.
World Vision India started this CFLRC six months ago to help children with their educational needs. With coaching classes and assistance with daily homework, children get the help they require to progress in school. They also receive nutritious snacks, an added benefit for children who come here. Most importantly the children are in a safe place while their mothers are soliciting customers to earn their daily bread.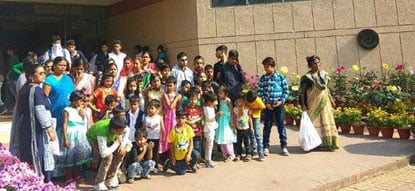 The CFLRC children enjoying a rare outing at the Science Museum
Tumpa Mondal, one of the teachers at the CFLRC, is very passionate about her work. "These mothers, they are not able to give any time to these children. If we give lots of love to these children, they will keep coming back (to the CFLRC) and we can really help them," she says. Through Neha's sharing, one can tell that she sees herself first as a mother. This reflects the life of many of the women who drop their children at the CFLRC, especially Neha. "He (pointing to her youngest son) hides food that he gets at this center and brings it home, because he knows his mother will be hungry," says Neha.
*All names have been changed to protect the privacy of the people in the story.