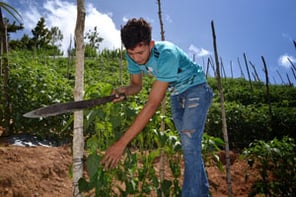 Ermis cuts back excess leaves to increase his bell pepper production
Walking up a steep hill, I arrive at a beautiful green bell pepper and tomato plot. It's early in the morning and the breeze is blowing from north to south. Continuing, I find Ermis Ramos cutting away excess leaves around the green bell peppers. He explains that by removing some of the leaves, the pepper will have more space to grow to full size. Ermis says, "I have learned new practices and techniques that were unknown to me, this new knowledge is priceless to me because no one will take it away."
Ermis Ramos is 20 years old. He lives in the community of Rastrojitos in Copán region, in northwestern Honduras. Many children in the community faced malnutrition and sometimes there wasn´t food on their table. Ermis remembers how his brothers and sisters weren't able to go to school because they did not have the means for uniforms and school supplies. When his family members became sick it was hard to get to a health center since it was far away. Even if they could hire a car, they could not afford the high cost of medicines. Their only option was to try home remedies.
Ermis used to work in the fields around the community, receiving an income of less than five dollars per day. It wasn't enough to help sustain his family. Growing beans, coffee and corn was hard because he was only able to harvest for his family consumption. Ermis says, "We didn't harvest enough grains to be able to sell them in the local market."
Even today, climate change is affected many producers in Honduras. The summers are dryer, and due to the lack of rain, many producers lose their crops.
Facing all these challenges, Ermis learned that his aunt, Janet Ramos (39), was joining a World Vision THRIVE program, where producers would learn new techniques for better quality farming. He decided to join her. The THRIVE program teaches farmers how to grow quality fruits and vegetables, while opening new markets to sell their product at a higher profit.
World Vision established a farming school in Rastrojitos that is allowing families to learn crop diversification and practice the techniques they learn in the THRIVE training. Many have begun replicating what they have learned in the farming school and are improving their diets at home.
Ermis has learned how to grow a quality harvest that is different from the traditional corn, coffee and beans. He understands how to make soil beds, how to wrap them in plastic, what type of fertilization is best for the environment. He knows how to irrigate properly without wasting water and how to produce a high quality crop that can be sold locally. Ermis's Grandfather has joined the farming group and now, three generations are replicating what they have learned in his aunt's field. They are working hard to keep the plantation healthy and hope to be able to harvest soon and sell a higher quality product.
Ermis says, "My dream is to have a plot of my own and sell my crops to Honduran supermarket chains to help my family, so in the future what happened to me, does not happened to my children."