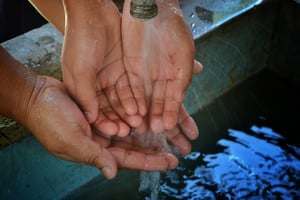 Beautiful red flowers and green trees line the path leading to the home of Mrs. Xiomara Zelaya. An attractive flower garden adorns her home. It wasn't always like this. Having a garden wasn't possible a year ago.
"It was hard waking up each day at 4:00 am to go outside in the dark and try and find water in the little creek," says Xiomara. Each day she faced a two kilometer walk in search for water. During the hot summer months, the creek would dry up and it took much longer to find water.
The community of Pozo Bendito in Eastern Honduras was facing a water challenge. Pozo Bendito used to have a water system, but it had failed. As the population in the area increased, the system was no longer able to serve the community´s water need.
With no clean water available, the whole community was experiencing high levels of contamination. There were no functioning latrines and the community practiced open defecation. Children became sick from the high levels of contamination that eventually ended up where people collected water to drink and cook their food.
Tatiana, Xiomara´s youngest daughter also suffered from waterborne illnesses and missed school often. Together with her mother, Tatiana woke up early each day to look for water, before returning home to get ready for school. She often arrived at school late and had a difficult time learning. Her early mornings gathering dirty water from the creek left her too tired to do homework when she returned home.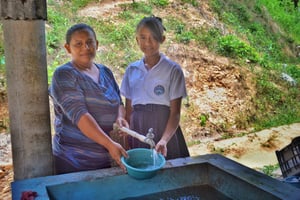 The community knew they needed urgent help and reached out to World Vision. World Vision met with community leaders to come up with a plan. At a community meeting, they announced that they would help restore and improve the old water system with the community's help. World Vision was able to do this because of the unique community engagement model. The Water, Sanitation and Hygiene (WASH) program focuses on improving sanitation and hygiene and creating a generational behavioral change in people. The community organized themselves and began working. Over 220 people worked for nearly eight months to build a new water tank. They dug trenches and installed the distribution pipes to each house, providing clean water for 140 families.
As the largest non-governmental provider of clean water, World Vision also helps communities improve the health and well-being of children through education and improved family economics.
"Life around the community has changed for the better," says Xiomara. Tatiana and other children are healthier and diseases in the community have gone down. Xiomara has learned about proper hygiene and is teaching her family to use the latrine and wash their hands. She also knows about proper water shed protection and keeps her stored water covered. "Now I can cook for my family, and prepare food with clean and safe water," she says. Today, Xiomara has more time to take care of her family, her home and her beautiful flowers.