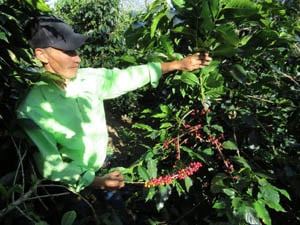 In the community of Los Planes, located in Marcala, Honduras, we met Abel Lopéz who is 44 years of age. He proudly showed us his huge coffee plot where he has over a 1000 coffee trees. This season has been better than any he can remember. He says, "This has been the best harvest I've ever had, thanks to the support of the World Vision THRIVE program; I've been able to care for each of my coffee trees and increase my production to be able to sell it and make an earning to support my family."
It wasn't always easy. The price of coffee had dropped in Honduras, leaving many coffee producers without a harvest. At one time, it cost more to harvest the coffee than what it could be sold for. Abel supports his family of five. He and his wife have 3 children, Olban, Heidy and Edwin. Before he did not make enough income for his children's schooling, health care or food for his household. ¨It was hard to work 8 hours a day for less than 5 dollars per day; I would struggle to provide for my family,¨ he says. Abel harvested traditional grains, beans, corn and some coffee but it wasn't until the year he lost his entire harvest that he decided to only harvest coffee. It was God's perfect plan for Abel to stick with only coffee because shortly after, he was invited by World Vision to join a local savings group which was launching THRIVE's farming techniques.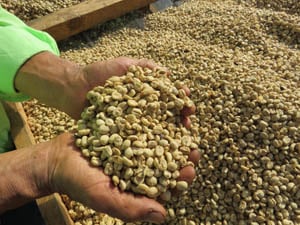 After the completion of the farming school, Abel learned how to correctly take care of each of his coffee trees; he learned how to clean them, how to fumigate them, how to avoid any fungus on the tree leaves and how to fertilize the soil. Abel and his family have come a long way because of World Vision THRIVE project. Abel and his family have planted a traditional coffee plot and a THRIVE coffee plot so people in the community may see the huge difference the THRIVE techniques make. Others are now motivated to join the savings group. He has also been able to sell his harvest and make an earning above $1,500 dollars. Because of this income, he and his cousins, who also are part of the savings group, have built a new coffee dryer and pulper. World Vision has a comprehensive approach that makes farming a successful and resilient business, so families can avoid extreme poverty.
Abel says ¨One of the most valuable lessons has been getting organized and working together, supporting one another in the different plots. If one of us has a problem, we all join in to help. ¨