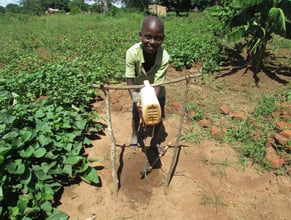 Grandson Brian at the new tippy-tap
When Florence got married in the 1980's, her new home didn't have a latrine. Though she had come from a home with one, she never asked her husband about it. For over 30 years, Florence, now 73, lived without a latrine in her home. Her family suffered a life of constant diarrhea and vomiting. The community in which they settled didn't do much to help change their mindset, as most homes also didn't have latrines.
Early last year, World Vision shared its Community-Led Total Sanitation model (CLTS), inspiring the members of Kamiga Village in the Nakasongola district to reflect on their health situation.
The exercise revealed that the community had many sanitation issues, which mostly resulted from homes not having latrines.
"Out of 108 households, only 45 homes had latrines in this community. We had tried to work with the district assistants to find a solution, but it failed until World Vision intervened," recalls George William, the village chairperson. Lovinsa, a World Vision health trainer and volunteer says, "Women had no idea about the need of a toilet in a home. They sent children to the bush. People suffered from diarrhea all the time."
At the community meeting, sanitation issues were discussed by members with possible solutions suggested. The community pledged to start building latrines and asked the World Vision representative to come back and check on the community in April.
"We decided to group the homes into clusters, each comprising 17-22 homes. A cluster leader was responsible for ensuring all the homes in their cluster had latrines, complete with a cover and hand washing facility," says George. However, the target had still not been met by April.
The World Vision volunteers went around the village to teach people about the need and use of latrines. "I was responsible for 17 households in my cluster and at the beginning of the exercise, only seven of them had latrines. The last household built their latrine in May," says Lovinsa.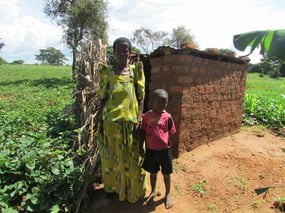 Florence & grandson Dan by their new latrine
When the district health officials came to inspect the village in September, they found that all 108 households had latrines. The district officially declared the village 'Open Defecation Free' in September.
Florence was one of the community members who built a latrine for her home. She shares her home with her 15 grandchildren. Before building her own toilet, she shared that her grandchildren would use the neighbors' forest as their bathroom, causing issues with them. Building a new latrine is not easy for an elderly woman. "I was helped a lot by my grandchildren in building the latrine. They helped collect the water and the soil for the walls. It took us a month to build it. They are now used to having a latrine and have learned how to use one. We no longer spend a lot on hospital bills like we used to before," she says. Florence's life and family have been transformed into a happy, healthy household.