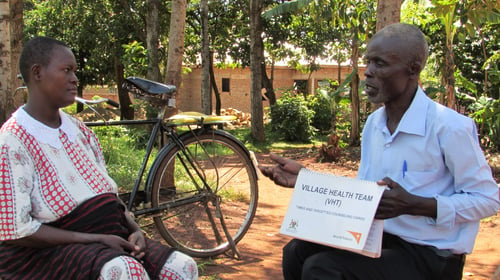 Wilson is conducting one of his training sessions with Grace during her 5th pregnancy.
At the age of 67, Wilson Masiga might consider slowing down and enjoying his seven children and forty grandchildren. Instead, Wilson still rides about 10km every day on a bicycle, traversing villages in Busia District, eastern Uganda, carrying the message of good health.
Wilson is one of the Community Health Workers (CHW) in this area. He has served in this role since 2011, after he and others were selected by the local leadership and community members. They were trained by the district health inspector, followed by additional training by World Vision in 2012. "We were trained in malaria control, nutrition and child protection, among others. World Vision has continued to give us refresher training along the way, reminding us that we are the first 'health centers' to help our communities," says Wilson.