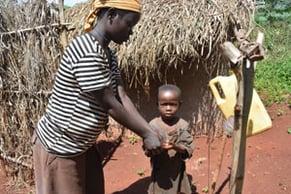 Florence & her second born using the tippy-tap
No one knows better than Florence how the benefits of having community health workers in her village can be life changing. Last year, Nyakabale was far from being a model village. As with most communities where open defecation exists, Nyakabale had extremely low standards of hygiene and sanitation. Through World Vision, volunteer community health workers (CHW) were trained to help teach people about the benefits of living in a clean environment, free of disease and waste. The CHWs help parents learn how to prevent common illnesses like diarrhea through better hygiene practices.
Pregnant with her third child, Florence was dismayed by the situation in her village. "I remember at the time, my second-born fell terribly ill from diarrhea. It was one of the scariest experiences," Florence says. A CHW examined her child and referred him to the health center, even though it was over 2 hours away. Sadly, this was not the first time Florence's children had suffered through this. "Both my children had diarrhea in the first six months," Florence explained. In Uganda, diarrhea causes up to 50% of child deaths. Cholera also robs mothers of their children and losing a son was a possibility that Florence faced every day. It was also a threat to her unborn child.
The first and most important step for the community was to become defecation free. After the community invested in cleaning up their village, it was a joyous occasion when the Ministry of Health declared Nyakabale Open Defecation Free. "We had a big celebration that day. It was such a great achievement," says Isingoma Besisira, Local Council Chairperson. World Vision, together with the CHWs, educated the community on the sanitation and hygiene essentials each home must have. Trained and equipped with knowledge, they all worked together to make sure each house was up to standard. "We would work in groups. We would go to one person's home and help them put up all the sanitation and hygiene facilities that were needed. If a house had failed to comply, we closed the house," Isingoma adds.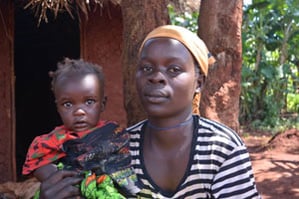 Florence with Travis—healthy & happy
Today, Nyakabale is a model community with each household having a well-constructed and covered pit latrine and a tip-py-tap for hand washing. They have drying racks, rubbish pits and separate bathing shelters. Even their animals have their own shelters. Once these milestones were achieved, the community leadership did not want Nyakabale to digress, so they created by-laws to govern the sanitation and hygiene standards. "We created the by-laws to ensure that we never go back to what we were, and if anyone in the community breaks them, there are penalties," Isingoma explained. "Also, the leaders of the household clusters continuously monitor each household. That way, we keep up the standards," he adds.
There is a ripple effect from the sanitation and hygiene improvements beyond the health of the community. "I do not spend much money on medical expenses as I used to," Florence says. Together with World Vision, Nyakabale community was able to create and sustain a nurturing and hygienic environment for infants. Holding her 6-month son Travis, Florence is glad that he will not suffer like his siblings did. For Nyakabale, the community health workers are the quiet heroes that deserve the praise.