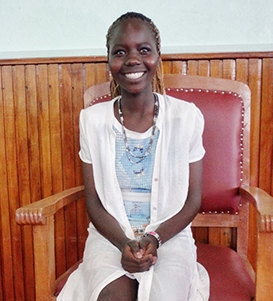 Marcellina is a 16-year-old, grade 10 student at St Joseph Chepterit Girls High School and marvels when she considers how fast life has changed in just three years. She now epitomizes the future of a changed society.
"I grew up in a patriarchal culture that emphasized more on conformity to the norms and practices of the community. Whereas this culture has some positive aspects, a lot of it is negative," Marcellina shares. "These harmful negative cultural vices such as FGM (Female Genital Mutilation) and child marriages are so institutionalized and no one dares speak against them."
Marcellina recalls being a grade 7 pupil at Ortum Girls Primary, when her head teacher selected her to represent the school in the first ever County Children's Assembly.
"We were many pupils drawn from 50 schools," she says. "During the meeting, we debated and identified various issues that affected children. At the end, we drafted an MOU [Memorandum of Understanding], which captured all issues and passed it to the County Assembly for further debate and action," said Marcellina.
Realizing the potential the children and youth could have in influencing cultural shifts and promoting a culture of openness, World Vision—in collaboration with the Kenyan government's Children's Department—initiated children assemblies in schools across West Pokot County through the Kenya Big Dream project. Moses Chepkonga, World Vision's Child Protection project manager, says, "The idea was that these assemblies would, in the long run, strengthen the weak child protection systems in the community and create an advocacy forum where children [come] together to debate issues affecting them." These forums have produced youth who are now advocating for their own rights.
The children's assembly forum was the beginning of Marcellina's journey. Her speaking skills and grasp of issues won the admiration of her fellow students, who elected her to be their youth representative. She says, "After my election, World Vision took me through capacity-building trainings just to help me understand the role and responsibilities of the position and, more importantly, be [informed] on how the legislative arm of the county and national government worked."
To further enhance Marcellina's understanding of the issues affecting children in her community, World Vision offered her the Alternative Rites of Passage (ARP) training. She says, "I graduated from this training with fresh ideas and I am more knowledgeable on issues that affected not only girls, but boys in my community. This was like a baptism of fire; it anchored me in my role," Marcellina says. "I vowed that I will advocate for all youth to undergo this biblically based, alternative…that truly ushers girls into womanhood and encourages them to complete their secondary education. Likewise, it turns boys into advocates against FGM." she added. Today, Marcellina speaks and advocates for over half a million voiceless children and youth in the county through the children's assembly and hopes to be a lawyer one day.
Marcellina says, "Thanks, World Vision, for giving me the power to speak with authority. You are helping us live better lives as children."