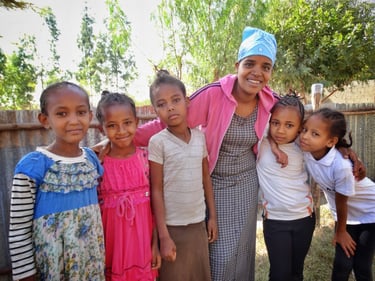 Fetlework with several of her Sunday school students.
Listen to Mesrach read this story.
"I know what these kids were missing because I have been in their position," says Fetlework. "During my time as a Sunday school student, we had the smallest kid from age three to the oldest at 14. We all sat in one classroom and most of the things said, I don't remember. Me and my friends never liked that," Fetlework said.
Pastor Getnet remembers too, "Full Gospel Church had a Sunday school service however it was practiced differently. Parents used to bring their children and drop them into one large classroom where all of the kids used to sit. They only had one teacher assigned and whenever the teacher missed church we let them join the congregation since we had no other option."