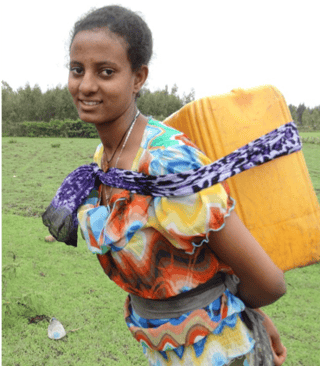 Guale carries clean water home
"My life now and before is like heaven and the earth. Incomparable!" says Guale, a 15-year-old girl in 8th grade, who aspires to be a successful business woman. Guale and her family live in Gondar, a historic Ethiopian city located 730 kilometers (454 miles) north of the capital of Addis Ababa.
Guale says, "Being the middle girl in the family, I carried a burden on my shoulder. I used to have a hectic life, filled with routine tasks expected of me. I live in a large extended family and all females in the house work tirelessly," she says. "I would wake up as early as 4am and together with my mother, sister and niece we go to fetch water from the spring or manually dug borehole. The time we get back home is determined by the number of people who have reached there before us," said Guale. "And once animals are out, it was difficult to get water because they make it dirty. I and my family drank this water all our life and we have always been sick for a reason we never knew until recently," she said. Until World Vision entered the community, Guale and her family lacked clean water or an awareness about sanitation and hygiene.