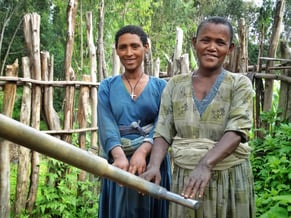 Alemnesh (L) and Yeshiwas enjoy time they have at the well site
"Praise God, for now I have time for myself. Fetching water is no more a burden, rather, a time break I get from the house chores and have a little chat with my neighborhood friends. We rest for a while, talk experiences, laugh and share ideas. A walk for clean water has transformed my life," says Alemnesh.
Alemnesh Fente, 30, lives in the rural village of the Yilmana Densa district where World Vision has an area program office. Before World Vision arrived, there was a big need for water in this vulnerable community.