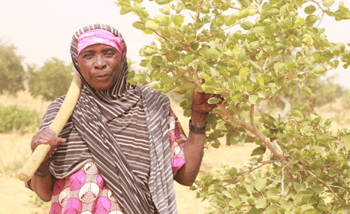 Salamatou Ilia, 65, stands next to one of 120 trees she cultivates. She plants millet, sorghum, and cowpeas between the trees. Her harvest is much bigger since she started growing trees rather than cutting them down. (©2017 World Vision/photo by Joelma Perera)
Earth Day, April 22, reminds us to treasure God's creation and to steward our natural resources wisely. Re-growing trees from their roots in deforested and degraded landscapes is one of the best ways to care for our Earth, says World Vision's Tony Rinaudo, an agronomist and natural resources expert.
In the 1980s, Tony pioneered a reforestation method in Niger that World Vision is using to help farmers become more resilient and food secure.
Following Tony's farmer-managed natural regeneration (FMNR) system, smallholder farmers learn to regrow trees from living stumps, by selecting, pruning, and managing the growing stems.
In World Vision programs, FMNR initiatives are changing farmers' lives for better in Kenya, Uganda, Rwanda, Niger, and Ethiopia — 24 countries in all. In Niger alone, more than 200 million trees have been cultivated through FMNR.
Farmers turn to growing trees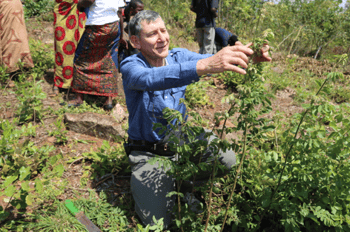 Tony Rinaudo demonstrates how to prune a tree being regrown from its roots during an FMNR workshop for farmers in Rwanda. (©2015 World Vision/photo by Charles Kariuki)
In sub-Saharan Africa and Asia, 80 percent of the farmland is managed by smallholder farmers. Many of them eke out a living the same way their ancestors did generations ago, planting the same crops and varieties and waiting for rain. When they prepare a field, they start by cutting trees.
Tony says that farmers often find it hard to believe that growing crops among trees can have benefits. To farmers, "it looks like what I'm talking about is trees, but really, it's about the farmers," Tony says.
"Trees know how to grow; but if I can convince farmers that it's in their best interest to let some of these trees come back into the landscape, then the rest of the task is easy."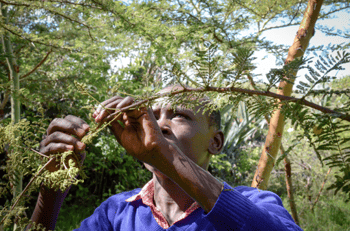 Fifteen-year-old Nimrod Kipchirchir learns FMNR techniques in a World Vision training for his school environmental club in Kenya. (©2014 World Vision/photo by John Schenk)
FMNR shows that when farmers work with nature, farmland can be restored. Over years of careful pruning and cultivation, native trees not only provide firewood and building materials, they improve soil fertility, reduce rain runoff, and boost crop yields. In other words, they restore the land.
Growing trees for the future
Many good things come to communities when farmers start growing trees with their crops. Trees help protect land from flooding and droughts, so soil doesn't wash into rivers or blow away. With FMNR, land productivity increases, bringing bumper crops of grain, fuel wood, and enough fodder to feed larger herds of livestock.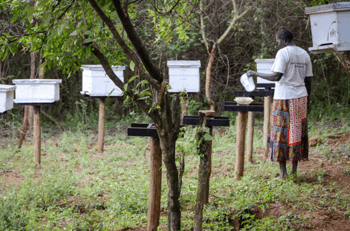 Nancy Soti Kemboi, 53, practices FMNR in Kenya and has added bee keeping to her farming activities. (©2014 World Vision/photo by John Schenk)
One success builds on another, as World Vision partners with farmers to improve their lives and livelihoods. Employment opportunities increase as farmers hire workers to tend animals and harvest crops. With more income, farmers diversify their earnings: They may take up beekeeping, start a home garden and sell the excess, buy goats to fatten for market, or sell firewood. That means less conflict over natural resources, fewer people leaving their homes to find jobs elsewhere, and more children eating well and attending school.
Tony concedes there's no silver bullet to restore degraded farm land. But because FMNR provides a low-cost, rapid means of restoring large areas of vegetation, it can be key to a better future for millions of people.