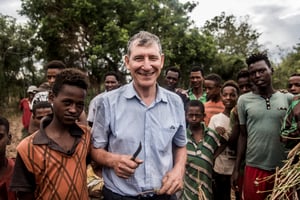 A humanitarian's painstaking work to transform desert-like landscapes into thriving forests and farmland has been hailed a game-changer for combating famine and deforestation.
World Vision's Tony Rinaudo has won the Right Livelihood Award, also known as the 'Alternative Nobel Prize', after more than 35 years working across Asia and Africa.
"Most people don't realize that protecting the environment can help reduce hunger. Having trees on your land or forests nearby helps improve soil fertility, reduces rain runoff and boosts crop yields," Rinaudo said.
"They even help mitigate the effects of climate change for some of the world's poorest, most vulnerable people."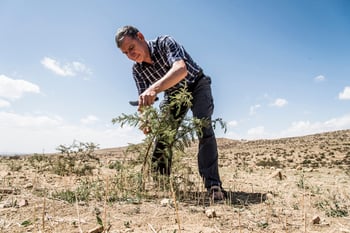 Demonstrating pruning techniques
Rinaudo was travelling in Niger in 1983, when he encountered a dilemma with the tree-planting movement.
"The international community was planting trees, but many of these trees kept dying. They wouldn't survive the drought, while people were chopping them down because they desperately needed wood for fuel, shelter and to sell," Rinaudo said.
Rinaudo was in the middle of barren landscape in Niger in 1983, when he made a surprise discovery that there was an existing underground network of tree roots struggling to grow. He realized he could train local farmers to help these trees to grow by educating them about the benefits of trees and teaching them a technique to prune them with a sharp knife.
The simple method is called Farmer Managed Natural Regeneration, also known as FMNR. Since the 1980s, it has been credited with helping restore six million hectares of forest in Niger.
"In these areas, farmers say they've been able to double their crop yields and incomes. They're now producing enough food to feed an extra 2.5 million people a year," Rinaudo said.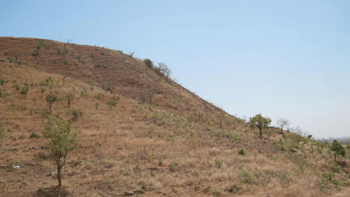 Before: A region in north-eastern Ghana in 2012 before FMNR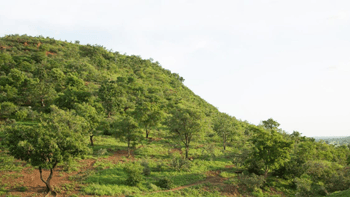 After: 2 years later in 2014
In Humbo, Ethiopia, the green results can literally be seen from space, via satellite images.
Past recipients of the Right Livelihood Award include Syria's 'The White Helmets' and human rights advocate Bianca Jagger.
The award, which is given to four Laureates worldwide each year, recognizes courageous people and organizations offering visionary solutions to the root causes of global problems.
"Tony Rinaudo presents practical solutions to counter desertification, famine and despair. His farmer-managed natural regeneration method has proven to be very successful," Ole von Uexkull, Executive Director of the Right Livelihood Award Foundation, said.
"If policymakers are ready to support this approach, degraded drylands with an area the combined size of India could be restored."
Rinaudo and World Vision are now promoting FMNR in 24 countries worldwide.
The Melbourne, Australia resident says he hopes more organizations and policymakers will promote and incorporate environmentally sustainable initiatives like FMNR into development work.
"It's an honor and it's also exciting to think what this could mean for FMNR," he said.
"FMNR isn't a silver bullet, but it definitely has the potential to play a major role in mitigating climate challenges and reducing world hunger."
Christopher Shore, World Vision's Chief Development Officer for Economic Empowerment added, "FMNR is an integral part of our THRIVE program to build improved and resilient livelihoods for smallholder farmers. We are immensely proud of Tony, and so glad that FMNR is growing and spreading."