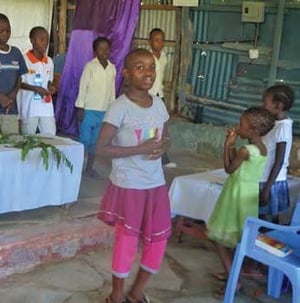 The sun beats down on the iron sheet metal that covers Potter's Restoration Fellowship Church in Changamwe, Kenya, creating oven-like temperatures inside.
But 12-year-old Vanessa (pictured right) leads the children's Bible club, undeterred by the heat as she explains Bible stories, encourages the children to sing praise songs, and organizes a skit that illustrates the lesson they are learning. It might seem doubtful that many children would choose to be inside on such a hot day, but Mary Kombe, the adult leader of the Bible club, says attendance has soared to 70 children from none.
Mary is thankful to World Vision and partner organization, Scripture Union, for the focused efforts that have been made to train schoolteachers and Sunday school teachers in Changamwe about children's ministry since the beginning of this project's pilot.
"It is amazing to see what has happened in this church and other similar Christian churches within the locality for the last four years," she said. "Previously, no one ever cared about our children. We had no structured programs to cater for them in terms of their spiritual formation and growth."
She said that now, "Our children got a new lease on life, and church becomes more interesting place for them to go and fellowship."
Mary, who has taken advanced training from World Vision to earn certification as a trainer of Sunday school teachers, is especially proud to be Vanessa's mentor.
Vanessa's self-confidence and deep knowledge of the Bible have made her a natural leader. She has become a role model that other children try to emulate.
Comfortable in her competence, Vanessa matter-of-factly explained, "I was trained … and given lots of Bible materials and devotional guides, too. For me, I thoroughly read them and practiced what I learned from them. That's why I am confident enough to teach my fellow children. Even at school, I am also the Bible school leader."
Her self-confidence gives her a sound foundation for her future plans. Excellent at math and science, she dreams of being a pilot. But even more, she says, "I want to be like Teacher Mary. I would want to help guide and nurture God-given talents in children and show them the love of God."