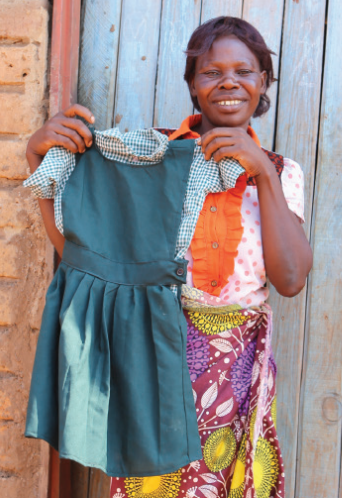 In Bangladesh, Shohug's father died when he was 5, leaving him to help provide for his family. Through World Vision, Shohug, 10, can still go to school, even while he helps his mom sell homemade lentil chips. Please join us in prayer for children like Shohug. (©2017 World Vision/photo by Laura Reinhardt)
Children are a precious gift from God. As adults, we have the privilege and responsibility to care for them and help them live the full and abundant life God desires for them. Tragically, love and security are not the reality for three-quarters of the world's children who experience some form of violence every year.
It is hard to accept, but the reality for the majority of children is a life of violence, and for some, exploitation. At least 1.7 billion of the 2.2 billion children in the world experience violence every year, in their homes, schools, or communities.
Children are trafficked for sex, sent to work in dangerous factories, forced into child marriage, or locked into domestic servitude. Warfare leaves children vulnerable to serving as soldiers or in support roles. In some countries, gang violence tears families apart and creates a culture of violence. In many countries, girls are still undergoing female genital mutilation and cutting (FGM/C), and some girls aren't born at all because of prenatal sex selection.
"Violence destroys everything World Vision hopes to achieve in a child's life," says Bill Forbes, director of child protection at World Vision International. "That's why ending violence against children in all its forms is one of our highest priorities. We focus on creating safe environments in some of the world's most difficult places."
If we are to achieve any significant or lasting progress in improving children's well-being, we must first keep children safe. World Vision has decades of experience in child protection. Our long-term presence in communities and the trust we establish allow us to address harmful cultural norms that condone and perpetuate exploitation, abuse, and violence. We work with families, local leaders, and children themselves to identify solutions. Children are transformed — equipped and empowered to protect themselves and one another.
Together we can help protect an estimated 5 million children from exploitation, abuse, and violence — replacing fear with the safety they deserve.
How can I help end violence against children?
Pray-

Follow the guide below to join us in prayer to end all violence against children, to pray for the children who remain trapped in this nightmare, and for

World Vision's work

to protect children.
Learn more

about World Vision's work in protecting children.
Share with your friends about the importance of child protection.
Give

to help protect more children.
"And whoever welcomes one such child in my name welcomes me." —Matthew 18:5-6 (NIV)
Pray for an end to child labor.
Worldwide, 151 million children are involved in child labor. Child labor can be prevented at many levels — governments can enact or strengthen laws around human trafficking and labor, corporations can ensure that children are not exploited along their supply chains, communities can take greater responsibility for collectively protecting children, and families can value their children's well-being above economics. We can help families boost their incomes to avoid forcing children to work. We can also raise awareness and pray for the power of God's love to counter greed and desperation to change the hearts of people who can create better circumstances for children.
Lord, You are our Provider, and we know all good things come from Your hand. Help families to find reliable incomes so children don't have to work. Let laws and cultural practices protect children from a childhood of abuse and suffering.
"'Because the poor are plundered and the needy groan, I will now arise,' says the LORD. 'I will protect them from those who malign them.'" —Psalm 12:5 (NIV)
Pray for the safety of children working in hazardous conditions.
About 72.5 million children are involved in the worst forms of child labor, including mining, construction, scavenging, domestic and factory work, and agriculture. Hazardous conditions endanger children's health, safety, and moral development. Ask God to keep children from harm as they struggle under heavy loads and work with unsafe tools and harsh chemicals.
Lord, we know You love Your children, and we pray that when they must work,You would protect their growing bodies. Please keep them safe and free of injuries and toxins. Deliver them from oppressive bosses and hazardous conditions. Make it possible for children to stay in school.
"God is our refuge and strength, an ever-present help in trouble." —Psalm 46:1 (NIV)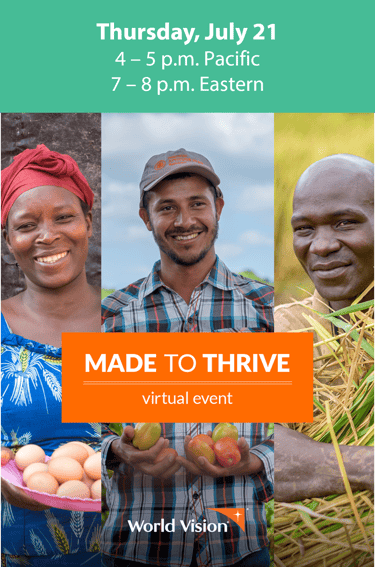 Tarikul Islam wishes he could go to school like the other kids in his community in Bangladesh, but the 14-year-old has been working for five years at an auto shop and has forgotten everything he has learned in school. He works for about 12 to 14 hours a day and makes about $25 a month to help support his family. His mom works 14 hours a day as a domestic laborer to earn $12.50 a month. Tarikul has been attending World Vision's Khulna Child-Friendly Learning and Recreation Center. He hopes to learn how to read and write and do basic math so he can one day have his own auto shop. If he can learn these things and get about three to four more years of training, he could make about $437 a month, and that's his goal. (©2017 World Vision/photo by Laura Reinhardt)
Pray to eradicate the root causes of child exploitation.
Child exploitation means using a child for profit, labor, sexual gratification, or for some other personal or financial advantage. An estimated 1.2 million children are trapped in slavery that involves sexual exploitation. At the heart of child exploitation are complex issues, including extreme poverty that can lead parents to sell their children. Sometimes moms and dads are tricked into believing their children will work in a wealthy person's home and will be treated fairly. But many are held as virtual slaves. With God's help, we can change this system of exploitation through empowering children, strengthening families, mobilizing faith leaders, and influencing governments. Please pray for God to do what only God can — soften people's hearts and heal their minds.
Dear Lord, Your Word calls us to hunger and thirst for righteousness — a righteousness that leads to compassion for the poor and a renewing of minds. Lead us to this kind of faith that works to make a better world for all Your children.
"You, LORD, hear the desire of the afflicted … so that mere earthly mortals will never again strike terror." —Psalm 10:17-18 (NIV)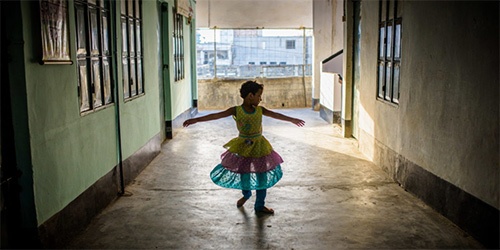 Sonali, whose name means golden, plays at the former World Vision Hat Khola Child-Friendly Space in Jessore, Bangladesh. Her mother, Reshma (*name changed to protect privacy), is a commercial sex worker. Reshma was trafficked to the Hat Khola Brothel when she was only 10 years old. "I loved a boy who brought me here," she says. The boy, Mustafa, left her at the brothel. Now in her 30s, Reshma has been here for most of her life. The Child-Friendly Space, which World Vision funded through the Campaign For Every Child, worked to stop second-generation trafficking by giving Sonali and other children living in the red-light district a chance at education and, as Sonali's mother says, a "way to a better life." (©2014 World Vision/photo by Jon Warren)
Human trafficking is modern-day slavery. Nearly 25 million people worldwide are being trafficked for the sex trade, forced labor, and other illegal purposes. Criminals make $150 billion profit every year, trafficking victims for sex and labor. Evidence from the U.N. Office on Drugs and Crime suggests that more than 20 percent of all people trafficked are children. Many are sold into prostitution to pay off family debts or abducted from the streets and forced to work in brothels. Children who escape or are rescued face a difficult physical and emotional recovery process. In five years, World Vision helped more than 8,400 child survivors of exploitation and abuse and aims to expand our work to help many more. Please pray for God to fuel our work.
Dear God, there are times when it is right — and righteous — to be angry. It is right to be angry about people who exploit children. Let that righteous anger fuel action, Lord. Don't let it fade into complacency.
"Arise, LORD! Lift up your hand, O God. Do not forget the helpless." —Psalm 10:12 (NIV)
On a bright December day, songs, dances, and shouts of joy sounded from a field on St. Catherine's Secondary School campus. The girls' boarding school hosted 330 girls and 170 boys in Kenya's West Pokot County. Family members, government officials, teachers, and religious leaders cheered and celebrated the teens during the alternative rite of passage, a positive substitution for female genital mutilation and cutting. (©2016 World Vision/photo by Jon Warren)
Pray for an end to female genital mutilation and cutting.
Female genital mutilation, also known as cutting or female circumcision, is the removal of part or all the female genitalia for non-medical reasons. This traditional rite of passage initiates girls into adulthood and, ultimately, readies her for child marriage. Despite FGM/C and cutting being outlawed in many countries worldwide, 200 million girls and women have experienced female genital mutilation.
Done with a razor blade or knife — often with no anesthesia or disinfectant — FGM/C can cause severe pain, bleeding, and swelling that may prevent passing urine or feces. Though the scars may heal, the horror of the event — including being physically restrained — can affect a young girl for years. And FGM/C can also cause chronic pain and infections for the rest of her life.
World Vision and other organizations are educating and empowering girls and their communities to end FGM/C, often substituting positive rites of passage for teen girls and boys.
Lord God, help families that practice FGM/C see its damaging effects on girls and young women. Motivate families to turn away from inhumane practices, and protect their female children from all forms of harm, including FGM/C. Lay Your hand of protection over girls at risk of FGM/C.
"I praise you because I am fearfully and wonderfully made ..." —Psalm 139:14 (NIV)
Globally, more than 650 million women alive today were forced to marry before they reached the age of 18. Fear of premarital pregnancy, rape, hunger, homelessness, and harmful traditional practices are all drivers of child marriage. Girls will also marry because of threats and coercion. Of the 25 countries with the highest rates of child marriage, the majority are affected by conflict, fragility, or natural disasters.
Girls trapped in child marriage tend to be poor, undereducated, and live in rural areas where birth and death rates are high and conflict is common. They are more likely to experience domestic violence, forced sexual relations, and poor reproductive health.
World Vision helps organize local leaders, parents, educators, law enforcement, and social services to support girls in pursuing education and avoiding child marriage. And World Vision children's clubs empower girls with information, particularly on child rights and healthy physical development.
Lord, we echo the psalmist's confidence that You will deliver those who cry out to You for help. See to the needs of precious girls and boys vulnerable to child marriage or already trapped in its grasp. Hear and answer their cries for help. May cultures where child marriage is accepted and encouraged learn of the harm it causes to children and advocate to change these customs.
"For he will deliver the needy who cry out, the afflicted who have no one to help." —Psalm 72:12 (NIV)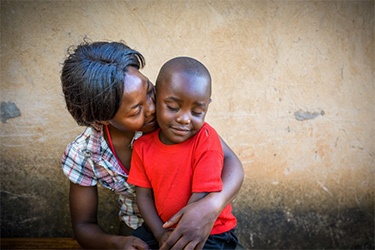 Juliet Nabirye, 26, with her 2-year-old son, Junior Kisule, who was saved from child sacrifice through World Vision's Amber Alert-style program in Uganda. Juliet was ecstatic when she was reunited with her son. "It was the happiest time of my life," she says. Obed Byamugisha, who works as a child protection and development facilitator for World Vision in Uganda, says poverty has led to child sacrifice in Mukono District. "People believe in witchcraft as a way of reviving their fortunes and getting money to boost the family income," he says. There are witchdoctors who demand children — perfect children, usually between the ages of 2 and 15. But Junior was saved from his abductor because of World Vision's program. "If a life is saved, there's no greater good than that," says Obed. (©2014 World Vision/photo by Jon Warren)
Pray for an end to child sacrifice.
Child sacrifice is an abomination. In certain districts of Uganda, witch doctors convince people desperate for money, children, or healing that only a child's body part, such as the head, the fingers, or the private parts — mixed with traditional medicine — will cure the problem. Ritual demands that the parts be removed while the child is still alive and conscious. World Vision's Amber Alert-style program is taking on child sacrifice in Uganda.
Father, protect Your children from abductors who prey on the most vulnerable. Bless the radical partnership between leaders of all faiths, law enforcement, traditional healers, and communities to stop child sacrifice once and for all. Comfort grieving parents in their time of unimaginable loss.
"Rescue those being led away to death; hold back those staggering toward slaughter." —Proverbs 24:11 (NIV)
Pray for an end to gang violence.
Drug trafficking, gang activity, easy access to guns, and ineffective justice systems have contributed to high levels of crime and violence in Central America and urban areas worldwide. Even people living in small towns fear being robbed, threatened, extorted, or kidnapped. Of the top 50 most violent cities in the world, 42 are in the Latin America and Caribbean region. Pray for World Vision's work, which helps create violence-free communities and helps young people learn a vocation and positive life-skills so they can better resist the temptation of easy money from criminal activities.
Lord, chaos and fear cripple communities overrun by gang violence. Thank You so much for the gift of Your Son. Through Him, we truly become a new creation. We claim Jesus' blessing for peacemakers in Matthew 5:9. Help young people see themselves the way You see them, so they can help bring peace and hope to other people's lives.
"Blessed are the peacemakers, for they will be called children of God." —Matthew 5:9 (NIV)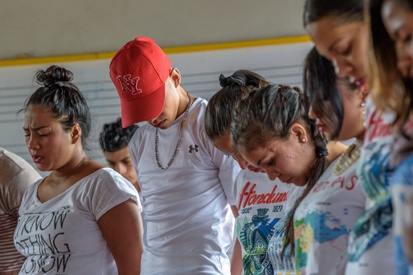 In Tegucigalpa, Honduras, World Vision is offering more than 200 youth an alternate to gangs. At the Youth Workforce Development project, young people learn business skills, develop life plans, and find a supportive faith community. (©2017 World Vision/photo by Jon Warren)
Pray for supernatural protection for children.
Criminals roam the world like the predators they truly are, looking to prey upon the vulnerable. They use lies, threats, coercion, and violence to force children into sexual and other kinds of exploitation. This is an evil business of supply and demand. Ask God to eliminate the demand and blind their eyes from seeing potential "supply" in their paths.
Dear Lord, Your Word is filled with accounts of miraculous protection. We claim that power for vulnerable children. Make Your little ones invisible to people who seek to exploit them. Raise up communities and governments that will protect children and bring criminals to justice.
"Defend the weak and the fatherless; uphold the cause of the poor and the oppressed. Rescue the weak and the needy; deliver them from the hand of the wicked." —Psalm 82:3-4 (NIV)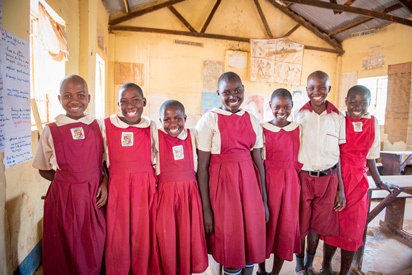 Members of a child protection club at Kakabagyo Primary School in Uganda are helping to prevent and resolve instances of abuse and bullying in their school. The club was started by Esther Naluae, a teacher who received child protection training from World Vision. The Peace Road and Vision Club, as she calls it, empowers children to make changes when they see abuse, including successfully removing a teacher who was abusing a student. (©2018 World Vision/photo by Laura Reinhardt)

Pray for World Vision's work to protect children.
Inspired by World Vision founder Bob Pierce's prayer, "Let my heart be broken with the things that break the heart of God," World Vision works to end violence against children in all its forms. This includes empowering children, strengthening families, mobilizing faith leaders, and influencing governments. Pray for strength and courage for staff at the forefront of this work and for World Vision's efforts to help even more children.
Almighty God, You know the challenges our brothers and sisters face in protecting children from violence and exploitation. We ask that You give grace to World Vision's staff to fulfill the responsibilities You've placed in their hands. Thank You for empowering them to be Your hands and feet.
"Let us not become weary in doing good, for at the proper time we will reap a harvest if we do not give up." —Galatians 6:9 (NIV)
What can I do now?
Pray: Keep praying like you just did!
Share this article with your friends and family on social media
Read this inspiring story of a community transformed through World Vision's child protection work.
Donate to protect children and help end violence against children.
Kari Costanza, Chris Huber, Denise C. Koenig, Andrea Peer, and Kathryn Reid of World Vision's staff in the U.S. contributed to this story.