Our Approach
World Vision's approach covers the full range of disaster management, going far beyond the immediate response we see reported in news and on television.
Before an emergency, World Vision works with communities to develop disaster preparedness plans that map out local threats and identify how best to save lives and protect property.
The global pre-positioning resource network is our designated team that makes sure we're prepared to respond rapidly to any disaster anywhere in the world. They pre-position supplies and develop programming standards, logistic assessments, and logistic plans.
Every dollar spent on disaster preparedness can mean up to $7 in savings after a disaster strikes.* Millions of dollars worth of supplies are ready to be distributed at any given time from seven different warehouses strategically located around the world. These relief supplies are ready for up to 225,000 beneficiaries at any time, ensuring those affected by disasters will have access to rapid, life-saving aid.
During and after a crisis, we provide emergency food and water, along with basic relief items. We also promote personal hygiene practices to protect from deadly disease outbreaks.
Our child protection programs respond to urgent cases, such as children separated from their families, abuse, exploitation, and other forms of violence. We also respond to health, nutrition, and education needs.
Our goal is to support families not just in the short-run, but also as they go through the arduous process of rebuilding their lives and livelihoods. World Vision works alongside communities to establish permanent housing, sustainable access to clean water, food security, access to a quality education, and re-establish livelihoods.
* United Nations Development Programme, #ActNow - Save Later
Proven Expertise, Industry Leadership
World Vision is a global leader in emergency relief with decades of experience and an established resource network that is ready to respond to any disaster or humanitarian emergency, anywhere in the world.
World Vision is a deep-rooted and active member of society in each of the nearly 100 countries we work in. More than 95 percent of our 46,000 staff are based in their home region, bringing critical knowledge of and sensitivity to local culture and customs.
Our extensive network of national and local operations is positioned to immediately respond to disasters. Drawing upon our global rapid response team, local and global partners, and the capacity of more than 600 international disaster experts from around the world, World Vision is able to effectively scale our responses to suit the needs of affected communities.
In 2016 alone, World Vision responded to 130 emergencies in 63 countries, assisting 15.4 million people. Because of World Vision's holistic approach, we are equipped to deliver a variety of critical programs depending on the situation and needs of the community.
And with the vast majority of our national entities led, managed and directed by local staff, World Vision makes a long-term contribution to local development and resilience.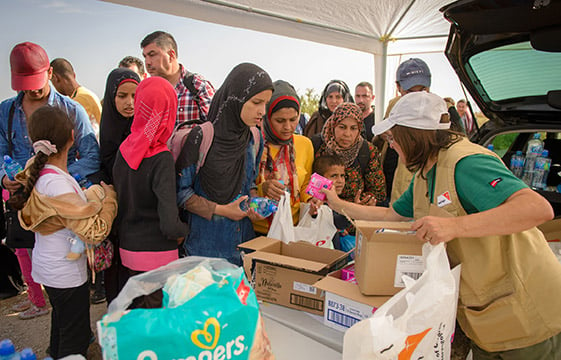 Impacting women and girls
During humanitarian crises like armed conflicts and natural disasters, gender inequalities are often intensified, and violence has been shown to increase, especially toward women and girls.
Oppression of one means oppression of all. Research shows that societies with greater gender equality experience faster economic growth, better outcomes for children, and more representative government institutions.
To eradicate poverty, we must address the inequitable systems and beliefs that hold people back from achieving their God-given potential. World Vision works to:
Empower communities — girls, boys, women, and men — to transform discriminatory practices together
Implement an integrated approach, incorporating gender equality into all of our programming
Mobilize community and faith leaders to act upon gender injustices in their communities
Provide economic support for families to prevent negative coping mechanisms
Strengthen community-based child protection mechanisms, including community watch groups and child protection committees
Provide safe spaces for women and children
World Vision identifies and addresses harmful social norms in power and decision-making in communities. Building trust, equitable gender relations, conflict prevention and resolution, and valuing all children provide a foundation for resilience.
Every child should be safe from harm
World Vision's emergency relief programs give priority to children, especially the most vulnerable, and empower them — together with their families and communities — to become active participants in improving their well-being.
World Vision educates and equips children and their families to prevent abuse, exploitation, and violence. We work with communities to protect learning environments through preparedness planning, conflict mitigation and peacebuilding, and providing safe play and learning areas during the aftermath of a crisis.
Program highlight: Child-Friendly Spaces
Child-Friendly Spaces are safe havens that allow children to play, draw, sing, and share their feelings; engage in non-formal education; learn resilience and life skills needed to adapt to their new environment; and return to or maintain a normal routine.