Sherree and Jim are members of World Vision's National Leadership Council. This is their story.
Jim Funk describes his family's commitment to World Vision's mission to the poor as a "journey, not a race." Though the family's journey that began decades ago has seen various seasons, the Funk family shows no signs of becoming weary.
In 1979, Jim's wife Sherree saw a TV commercial inviting viewers to sponsor children through World Vision. Because she'd just started her first paying job, Sherree began sponsoring a child. And when the World Vision Christmas gift catalog began arriving in the Funks' mailbox each fall, Sherree and Jim—both trained as geologists—began purchasing portions of water wells to provide clean water to communities in need.
In 2000, when God moved Jim, Sherree, and their three children to Sewickley, Pennsylvania, their new home was located less than two miles from World Vision's Global Distribution Center—where durable goods are packed and shipped to field offices around the globe. As the family began to volunteer at the Center, alongside others from their church and children's school, they better understood the ministry's expansive impact. Sherree reports, "The enormity of this operation brought me to tears."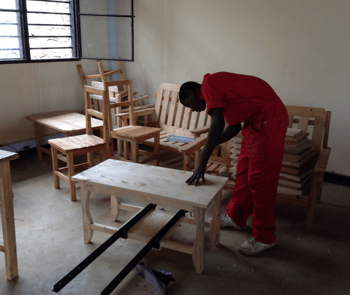 A young man working at the Vocational Center in Rwanda
In 2010, Jim and Sherree had the opportunity to visit World Vision's office in Washington, DC, with their daughter, Anne. On that visit, they shared lunch with Dr. Emanuel Opong, from Ghana. As Dr. Opong described the Global WASH program, emphasizing the importance of sanitation and hygiene, he shared three stories that impacted the couple deeply: Dr. Opong's sister had died in childhood from diarrhea due to lack of clean water; one of his childhood friends died in a well accident while scrambling down it to collect water; and a man whose Muslim community had given up on clean water, after several failed drilling attempts, became a Christian after World Vision successfully drilled a well in their community.
One story, a bit closer to home, also lodged in their hearts. At the World Vision Conference in 2012, fellow National Leadership Council member Stu Phillips shared how reading Richard Stearns' The Hole in Our Gospel, which had also been meaningful to the Funks, moved him to rethink his priorities. As a result, Stu sold his beloved Wyoming ranch. When Sherree and Jim took a Vision Trip to Ethiopia and Rwanda in 2015, they saw the Vocational Center in Rwanda built largely by the gifts of the Phillips family. Not only did they witness the ways World Vision was equipping families to thrive, through vocational training and access to clean water, they also saw how a reconciliation program led by field staff was bringing healing to communities torn apart by the Rwandan genocide of the 1990s.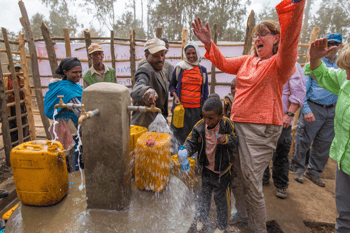 A joyful moment watching clean water gushing out of taps for the first time.
One of Jim's favorite memories from that trip to Africa was watching children in an Ethiopian village turn on the tap to get clean water for the first time. He raves, "Seeing them drink and wash their dusty faces was like nothing else."
As a result, the Funks invited family and friends to fund a similar water pipeline project in Ethiopia.
They also host events in their home to welcome others into the work they love. Sherree recently hosted a 6K race, to raise money for clean water. Now two participants from that race are planning to host their own 6K for clean water.
Inviting others to join the journey…that is what the Funk family does.
To learn more about how you can help vulnerable people access both living water and physical water, contact the NLC helpdesk for more information.