Robin and Stu Phillips are members of World Vision's National Leadership Council. This is their story.
Although she was raised in a family that did not have an active faith, God was faithful to meet Robin Phillips. When she was eleven, Robin's heart was gripped by two questions, "Who am I?" and "Why was I born?" The search led her directly to Jesus. Reading Jesus' words, in a "red letter" edition of the Bible, convinced Robin that she was to help the poor and vulnerable.
Working with President Johnson's "War on Poverty" in rural Kentucky and advocating for people with developmental disabilities informed Robin's understanding of what effective "helping" looks like. She says, "I wanted to be involved in assistance to the poor and vulnerable in a way that did not rob the people of their dignity and did not create dependency."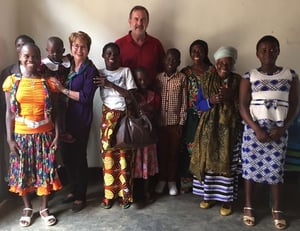 The Phillips in Rwanda.
Robin's husband Stu was exposed to poverty in its many forms as he was growing up in rural Kentucky. When he and Robin participated in a Vision Trip to Rwanda, he witnessed a grinding poverty that robbed people of any vision for a fruitful future. This experience awakened in Stu an intense desire to seek effective solutions with the potential to create a new kind of future for many.
As someone who taught and practiced management for many years, Stu is passionate about organizational efficiency and effectiveness. He quips, "Yes, God even uses business people!" Knowing that many donors want to ensure that their resources are being used faithfully, Stu is working to shape fresh avenues for World Vision donors to offer their time and talents as well as their financial resources.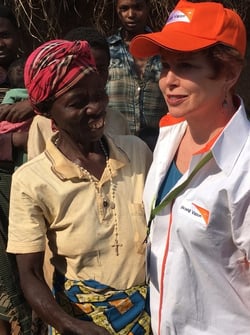 Robin connecting with a mother in Rwanda.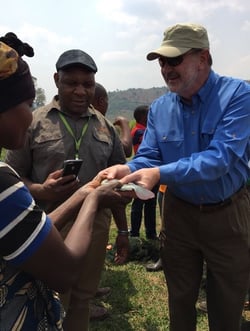 Stu holding a tilapia fish at the Marsh Project. There is a piggery at the end of the marsh and the waste from the pigs falls into an irrigation pond which then feeds the tilapia fish.
Both Robin and Stu, who co-chair World Vision's Economic Empowerment team, are passionate about helping the poor in a way that empowers them to provide for themselves and their families. Stu offers, "I seek opportunities to empower those in poverty to take responsibility for their own lives and own future, enabling parents to provide for the nutrition, education, and health of their children."
Robin couldn't agree more. And she believes that God's profoundly simple and brilliant way of caring for all those created in His image, especially children, is the family. That's why she's so passionate about World Vision's "Biblically Empowered World View" curriculum that provides the solid foundation for economic empowerment. She explains, "This single intervention is the 'secret sauce' of truly helping people to get out of extreme poverty. It provides the 'mindset change' that is crucial for spiritual transformation and it's what makes World Vision's work kingdom work."
Today both Stu and Robin are excited about the "Marsh Project," in Rwanda, which has produced an irrigation system that allows farmers to grow three crops a year, versus the more traditional two. The 420 local smallholder farmers involved in the project represent 2500 people. Parents in these families can now provide food for their children every day, shelter, tuition, and health insurance for their families.
Standing in the Rwandan marshland with a mother named Frances, Robin learned firsthand what this project had accomplished. Frances raved, "I am thankful to God, to World Vision, and to the project because with what I have been taught and what I know now, I am no longer in poverty, and I will never go back!"
Because Robin and Stu Phillips are using the gifts God has given them, Frances is right. Through the holistic work of World Vision, her family and her community have been offered the tools to lift themselves out of poverty.
If God has called you to use your gifts for the sake of others, and you want to engage further, contact the National Leadership Council helpdesk.