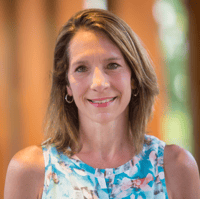 Sandra Drury is a member of World Vision's National Leadership Council. This is her story.
When Sandra Drury traveled to Tanzania with World Vision in 2015, her heart was ignited by something she learned there for the first time. Sandra discovered the biblically based Empowered Worldview (EWV) approach to the alleviation of poverty, and a passion inside her was unleashed.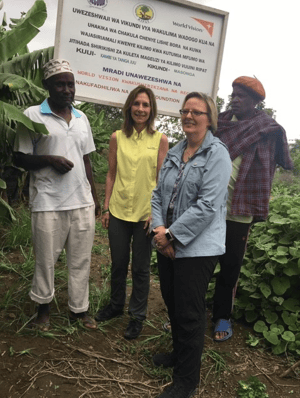 May 2017 Mwanzo Project, Tanzania: Sherrie Woodring and Sandra speaking to a Muslim man who had been trained in the EWV
EWV recognizes that God established the economic order of His creation - from the beginning. After creating humanity in His image, God not only gave men and women the mandate to steward His creation but also equipped them with the abilities to fulfill His mandate. Additionally, God's moral code, that is articulated in the Ten Commandments and throughout Scripture, includes requisite provisions to care for the most vulnerable (Leviticus 19:9-10).
The life-giving vision of EWV resonated with and fused two of Sandra's areas of expertise - business and Bible. She received her undergraduate degree in accounting and her Master's in Biblical Studies. As she learned more about EWV, she began to understand that this transformative program had real potential to alleviate poverty. Sandra raves, "I was beyond excited to participate in this God-ordained movement." She also explains, "Although the world has broken the system God designed, the EWV resets us back to God's original economic design for humanity."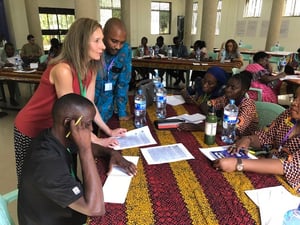 EWV training session at the African Inland Church of Tanzania in April 2019.
Since that first trip to Tanzania in 2015, Sandra has had the opportunity to participate in what God is doing through the Empowered Worldview in that country. Invited by the Archbishop of the African Inland Church of Tanzania, one of the country's largest churches, earlier this year Sandra facilitated a three-day EWV training workshop for women and youth leaders. She explains, "I loved watching the group think about the challenges their communities face and then working together on solutions." She adds, "I joyfully witnessed their newfound empowerment!"
The generosity with which Sandra is pouring into communities through her partnership with World Vision is reflected in her family's personal giving philosophy, which she says hinges on 1 Chronicles 29.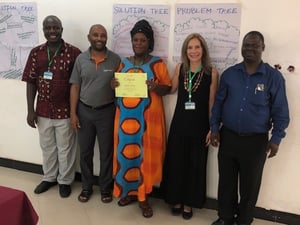 April 2019 Presentation of EWV completion certificate after a three day EWV training session in Mwanza, Tanzania with the African Inland Church. Pictured with James Kesanta, Geofrey Mjema, Award recipient, and Josephales Mtebe, AICT General Secretary.
In that passage David humbly prays, "But who am I, and who are my people, that we should be able to give as generously as this? Everything comes from you, and we have given you only what comes from your hand" (1 Chronicles 29:14). Sandra concurs, saying, "God makes it clear that we are mere stewards of His resources." And she adds, "God has entrusted us as stewards of His wealth, in line with His plan, to bring Him glory and to further His kingdom here on earth."
Interested in leaving a legacy that impacts a world in need? Get involved by sending an email to the National Leadership Council helpdesk.