Sherrie Woodring is a member of World Vision's National Leadership Council. This is her story.
After a robust twenty-six year career in the IT industry, Sherrie Woodring was exhausted from the demands of corporate America. Then, when her mother, Leila, suffered a severe stroke requiring full-time care, she moved in with Sherrie. Though the new journey was radically different than what Sherrie had accomplished professionally, the two discovered an unexpected satisfaction in their new life together.
Sherrie had been sponsoring children through World Vision: first one, then three, then six. The faithful pen pal began to notice how her mother responded to the children. Although Leila's cognitive skills were limited, she connected with the children, especially in the photos with their mothers. Leila would ask questions about the involvement of the fathers and what life was like for many of these single mothers.
Leila's interest wasn't theoretical. At the age of twenty-four, without a high school degree, she'd become a single mother to her own four children. So seeing these mothers struggle to provide for their children, in Tanzania and other countries around the globe, broke her heart. Sherrie, the consummate businesswoman, knew they could do more. She reports, "We had the great joy of helping them with a couple hundred dollars to start businesses." The women received several letters a week from these precious families. Sherrie explains, "We walked the journey with them, and they walked the journey with my mom's illness. They were attached, through letters."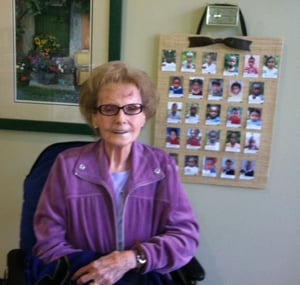 Leila in front of the photos of her 26 sponsored children
Although Sherrie had been raised as a Christian, she admits that Christ wasn't a part of her daily life. But during the four and a half precious years she shared with her mother at the end of Leila's life, Sherrie reports, "She took me on a journey together with the Lord. I grew dependent on the Lord. We both did."
On the most difficult days, Sherrie's mother would ask what so many who suffer ask, "Why me?"
Gently, humbly, Sherrie would answer, "There's a purpose that needs to be fulfilled. We'll have to see."
When the Sandy Hook Elementary School shooting broke the world's heart at the end of 2012, Sherrie and her mother increased their commitment to sponsor twenty-six children, representing the victims of the shooting. In the wake of so many children's lives being cut short, Sherrie wanted to give children around the world a chance to live. The twenty children Sherrie and her mother began sponsoring at that time all had birthdays on the anniversary of the tragic shooting.
In a difficult situation that neither would have chosen—daily caregiving, bathing, feeding, doctors' appointments, and laundry—Sherrie and her mother chose to look beyond their challenges, and beyond the walls of their home, to the world that God loves.
Sherrie's world shifted seismically once again when her mother passed in 2014. Ending one season and preparing for the next, the co-founder and CEO of VARCOM Corporation and Emprisa Networks picked up the phone to call World Vision. Knowing that giving money directly to families couldn't create a sustainable impact, Sherrie was interested in identifying a program that could empower families to start small businesses. After a Vision Trip to Tanzania, where she met many families of farmers, Sherrie joined the National Leadership Council and continues to offer her time and talents to World Vision's economic development programs.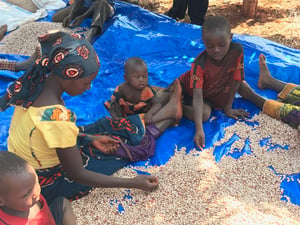 GAFCo farmers sorting beans with their children
Today Sherrie is living in Arusha Tanzania as the board chair and CEO of The Great African Food Company (GAFCo). In partnership with World Vision and VisionFund, GAFCo lifts children out of poverty by improving the capacity of productive poor farmers to grow high value crops for global markets. Working sixteen-hour days, Sherrie admits it's the toughest job she's ever had. But seeing a father ride his bike two-and-a-half hours to his field every day, dragging back twelve bags of beans to be weighed for market, and witnessing mothers sorting those beans, with children at their feet, reminds Sherrie why she's there.
Today, the purpose that Sherrie and her mother once struggled to see, is being fulfilled.
Interested in leaving a legacy that impacts a world in need? Get involved by sending an email to the National Leadership Council helpdesk.