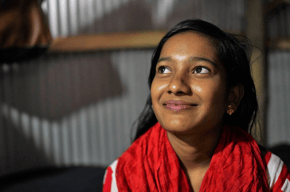 Shining a light in the darkness.
Heroes are rising up to shine light into their communities, and it's girls and women who are leading the charge. Let's celebrate them this October 11, on International Day of the Girl.
Resilient and resourceful, girls and women everywhere are stepping up to make a difference during COVID-19. They're taking action to protect their families and other people in their communities. And in the process, they're sparking hope.
Using what she's learned to help others
In Bangladesh, 17-year-old Akhi won't let her age deter her from supporting her neighbors.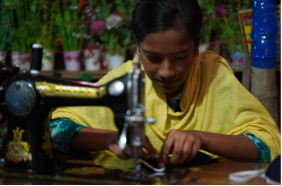 As a girl, Akhi labored in a shrimp processing factory to help support her family. She endured long hours working in dangerous conditions. Yet when World Vision helped her break free from child labor, she learned that she was too old to return to school. So we sent her to vocational school where she learned important life skills—and how to sew. We also provided her with a sewing machine and fabric to help her launch her own business.
Soon, Akhi was making custom three-piece dresses, shirts, trousers, and more. She quickly found success selling the clothing she created, along with ornaments and hand-beaded bags, at her mother's shop.
Then COVID-19 hit—and Akhi noticed a critical need: "There were no masks in the market," she says.
Putting her talent to use, Akhi begin sewing masks and selling them at a low price. She also created a surplus to donate.
"I also do give away free masks to the extremely poor people who cannot afford to pay," she says.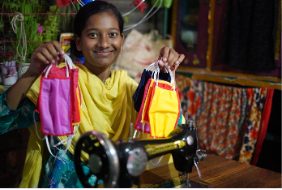 But Akhi didn't stop there. Determined to protect her community, she and her family used the training they received from World Vision to share important messages to help prevent the virus from spreading. They showed others how to wash their hands properly, to wear masks in public places, and to maintain social distancing.
Her efforts soon garnered international attention. On April 19, 2020—World Humanitarian Day—Akhi was one of eight humanitarians honored by the United Nations Office for the Coordination of Humanitarian Affairs (OCHA) for her work. OCHA shared her story as an example of one of the "real-life heroes who have committed their lives to helping others in the most extreme circumstances around the world."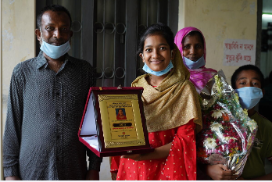 Today, Akhi has big aspirations. The hardworking tailor dreams of starting a clothing company where she can employ other young women in her community.
All over the world, girls and women are rising up to care for their communities amid crisis. This October 11, celebrate the International Day of the Girl by making more stories like Akhi's possible.
Visit worldvisionphilanthropy.org/women to learn more and take action.