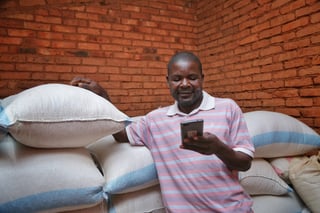 Born and raised in the rolling hills of Kandoli, in Malawi's Nkhata-Bay district, Friday Zimba, 46, is well. Friday and his neighbors have learned new ways to farm through World Vision's Transforming House-hold Resilience in Vulnerable Environments (THRIVE) Project. He learned how to turn farming into a business, rather than subsistence. Friday's mindset was completely changed through the Empowered Worldview training.
But then came COVID-19 —a blow to his ambitions as a farmer. With so many restrictions, his farming was heavily affected and it became challenging to move his farm produce. "My travel was a big challenge and it was difficult to transport my produce to different markets and customers during the era of COVID-19," says Friday with a somber face. This seriously and quickly affected his in-come at the household level.
World Vision's THRIVE project introduced the e-Mlimi (electronic farmer) initiative, and brought a total turnaround for farmers like Friday. E-Mlimi is an application that is helping farmers access extension services to promote agriculture productivity within the confines of their homes, using smart phones. It helps farmers access markets as well as agricultural information that can help them improve their farming practices.
"On e-Mlimi platform, I access a lot of information on improved agricultural practices that can enhance my farming business," says Friday. "This has enabled me to increase yield without physically relying on World Vision's Development Facilitators." Friday shares information and supports other farmers in the area.
Available products are also displayed on the platform so that potential customers can see and purchase them. "With this application, I am able to have customers from as far as the capital city of Lilongwe and down south in Blantyre, which was not the case before," says Friday. "As I'm talking now, we have a farmers' club which sells processed ginger. The products are displayed on the platform with prices. Currently, we have received orders from companies and restaurants from Blantyre, Lilongwe and Mzuzu to supply them with our ginger. This saves us time and money." Additionally, Friday is also expecting to sell his 70 bags of maize through the application to traders in Mzuzu and Lilongwe at about $1500. Friday has begun bee keeping and has a total of 20 beehives. He sells his honey using the e-Mlimi platform.
In spite of the pandemic, Friday is doing a lot of business, even at home using the e-Mlimi platform. His life and that of his family has greatly transformed. "Part of the money generated from the sales, I use to pay school fees for my two girls who are now in form 4 at Luwazi High School," he says. "I also use part of it to invest in farming and support the family at home with basic needs. My children are all healthy and we live a good life."