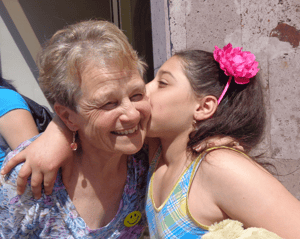 Anne meeting her sponsored child in Armenia
Anne Robblee is a member of World Vision's National Leadership Council. This is her story.
Before Anne Robblee was ever involved with World Vision, her husband was a member of a microfinance committee. Then, in 2006, Anne decided to join him on a Vision Trip to Nicaragua. Encountering people facing abject poverty opened Anne's eyes, as did witnessing the impact of World Vision's work that was transforming communities and individuals. Awed by the sacrificial love, care, and dedication of the World Vision staff members who ministered to them, Anne marveled, "It works!" Both Anne and her husband Dave wanted to further immerse themselves in the work of World Vision. She explains, "We were both hooked."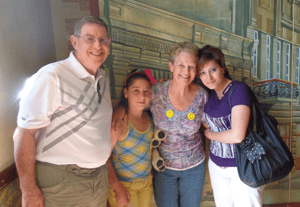 Anne and Dave visiting their sponsored child in Armenia
Anne eloquently describes the calling she and Dave experienced, saying, "It was God's call, to help God's people, with God's projects."
Upon returning home, Anne and Dave began sponsoring children in Nicaragua and in Armenia. When the couple had the opportunity to visit these children, they bonded with them, like family. Anne offers, "I am so thankful Dave was able to meet them before he died. I treasure reading their letters and reports and responding to them."
The loss of her husband didn't hinder Anne from continuing to respond to God's call.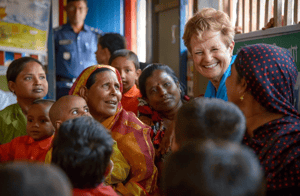 Anne on a Vision Trip to Bangladesh
Anne explains, "My passion is to serve the Lord and use my life for His purposes, as He calls me. I see World Vision providing a variety of platforms to learn and experience the needs of the poor, and help in the name of Christ."
She continues, "I have had the privilege of being a part of several Vision Trips and have seen projects in almost all seven initiatives[i] through which World Vision enables change. My heart is drawn toward Christian Discipleship because of its eternal impact. Partnering with World Vision enables me to extend my personal call beyond myself into the world through financial means."
On a recent trip to Tanzania, Anne met a local woman named Madame Leah, who was widowed. With a microloan from World Vision, as well as coaching and assistance, Madame Leah was transforming cow manure into gas, to fuel a burner inside her home. After proudly leading the group into her small living room, and demonstrating the use of the burner, Madame Leah prayed earnestly for all who had visited.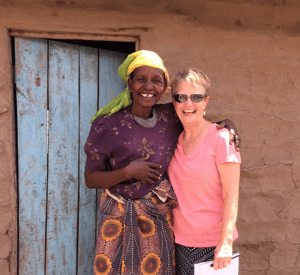 Madame Leah and Anne
Later, when Anne shared privately that she was also widowed, the two women bonded. Walking hand in hand down a dusty path in the village, chatting all the way as Madame Leah's son translated for the two new friends, Madame Leah took Anne to see her new water-pan project. The water-catchment pond holds water for later irrigation during dry periods, extending growing periods for crops. That day Madame Leah expressed her great desire to stay in touch. Before leaving, Anne left her a note about how much their meeting had meant to her, and the unlikely like-hearted friends have continued to share occasional news about their lives and Scriptures.
Today Anne takes great joy in sharing with others how World Vision is "faithful to God, trustworthy, and effective." With joy and commitment, she continues to embrace the work she and her husband said "yes" to, together.
Interested in leaving a legacy that impacts a world in need? Get involved by sending an email to the National Leadership Council helpdesk.
---
[i] By leveraging its unique position and assets, World Vision aims to intentionally and directly address the needs of more than 30 million of the worlds' most vulnerable people by 2022 in seven Signature Initiative areas of focus. They include: Water, Economic Empowerment, Mother and Child Health, Child Protection, Education, Christian Discipleship and Emergency Relief.