Vivian's Story
Vivian's story is rooted in poverty. She says, "My dad married four wives… I had so many problems." She and her siblings had to do odd jobs like selling firewood just to find money for food, and, even though she loved school, she had to drop out in class four. The weight of poverty and cultural pressures forced Vivian — and many of her peers — to undergo female genital mutilation (FGM). Though she tried to run away to her sister's, Vivian had no choice when her sister sent her back. About a month after being cut, a stranger came and took her to his house to be his wife. Vivian was 12 years old.
Like millions of other young girls, she had been married off to an older man she had never met because of her family's financial situation. In Vivian's case, her family needed the bride price to pay her brother's school fees. She tried to run away to her sister's again, but before long she was back at her husband's house. She was beaten, and told, "So many girls are married, what makes you special?"
But Vivian knew this wasn't the life she wanted, so she kept looking for ways to escape. One day, at the river to wash clothes, she took her chance and simply started walking away into the forest. Over many days and nights, she slept in trees and relied on the kindness of strangers for food and water. "I ran away since I was married and I'm still young. And I don't want to suffer the way I used to back home," Vivian told people who helped her.
Finally, she made it back to a safe place she'd heard about — a World Vision-funded safe place. Soon, Vivian was back in school. When she met with the headmaster, she said, "Let me go to class five, and if I fail, I'll go back to class four." Vivian's determination earned her the top spot in class five and she quickly jumped to the next class. "I have had many changes, and I am doing well in class seven. Now, things are good," Vivian says.
FGM's cultural hold
Sadly, Vivian's story is far too common. In Kenya, FGM — also known as female genital cutting — is a direct precursor to child marriage. Often, girls in Vivian's community aren't considered eligible for marriage until they've been cut, and families see marriage as the only way for their girls to have a financially stable future. As with Vivian's family, a bride price paid to parents by a girl's husband can mean a great deal to people in extreme poverty.
Although significant progress has been made toward ending FGM and child marriage globally, about 650 million girls and women alive today were married before their 18th birthday. In many places, FGM is a symbol of the transition from girlhood to womanhood and is a valued traditional practice in about 30 countries throughout Africa, the Middle East, and Asia.
Both FGM and child marriage forever alter girls' lives, exposing them to life-threatening illnesses and holding them back from an education. Girls are prevented from realizing their dreams and potential, and from contributing their gifts to improve their families and communities.
What are we doing about FGM?
We want girls in Vivian's situation to have every opportunity to chase their dreams. Ending child marriage and FGM is one part of the transformation needed for a healthy society — that's why a holistic approach is the best way to create lasting changes and shift attitudes. Our programs weave changes into the fabric of society at every level: among children, families, local faith leaders, and governments.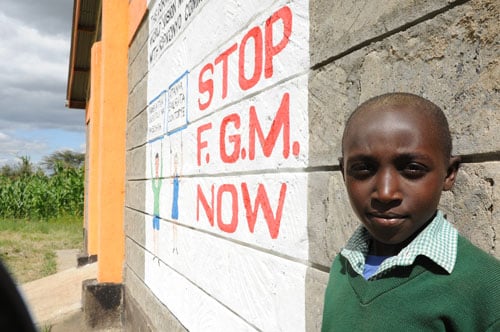 How does it work? Using four rings of responsibility …
We work to empower all children to play active roles in change among their peers, parents, and communities.
Our positive parenting and economic development programs strengthen families to protect, nurture, and support children, keeping them safe from all forms of abuse. Families gain new livelihoods and become less economically vulnerable — and less likely to choose child marriage and FGM as a way out of poverty.
We mobilize faith leaders, local elders, and other influential community members to work for safe and protective environments where all children can thrive.
We empower communities to influence governments for stronger national and regional child protection systems and structures.
The result? Girls like Vivian can dream bigger and take hold of their futures. This International Day of Zero Tolerance for FGM, on February 6, let's work to end the consequences of these harmful practices against vulnerable girls and women. You can empower girls like Vivian to write different stories — helping free all girls to live fully into their God-given potential.