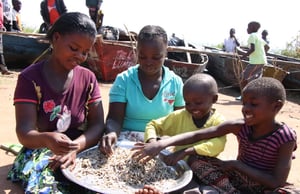 In the 21st century, one would think civilization has done enough to bring change to certain archaic societies; however, in countries like Zambia, several rural areas are still battling with the effects of old norms and lack of awareness. Luckily, some areas have been saved through proper education about sanitation and hygiene.
One example is the remote fishing community called Shijohni in Northern Zambia, about 950 kilometers north of the capital city, Lusaka. It is made up of mud huts dotted around Lake Mweru. From the onset, the people of Shijohni barely knew the importance of having properly constructed toilets or handwashing facilities.
"We used hand dug shallow pits built beside the lake. The toilets were about one-meter-deep with plastic inside and crisscrossing sticks on top with a small hole in between. When one got full, we dug another next to the old one," explains Alfonsina Chibuye, a 32-year-old resident of Shijohni.
Despite using the water in the lake for drinking, cooking, cleaning dishes, washing and bathing, the residents did not see anything wrong with building their toilets near their water source. They also did not see the need to wash their hands after using a toilet even with water close by. "For us ,this was very normal," Alfonsi-na says.
Unfortunately, Shijohni village experienced an unusual down-pour, one they had never experienced before. "It would rain from 6am to 2pm and sometimes throughout the night non-stop," she says.
After serval weeks of continuous rain, the lake flooded, submerging all the latrines and bringing the dirt to the surface. It was a sorry sight but the community had no choice but to continue using the same water for drinking and household chores. Adults began using the nearby bush to answer the call of nature while children did so in the water. Only a few days after the flooding, the entire village was hit by a severe outbreak of diarrhea and dysentery. "It was a terrible time for us. Everyone, young or old, was affected," she says.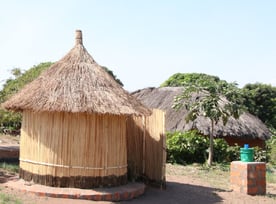 New latrines in Shijohni village
Fortunately, World Vision came to their rescue by distributing chlorine and training the entire community on the importance of good sanitation, drinking clean water and washing hands regularly. World Vision also taught them how to construct modern durable latrines using locally available materials.
"We now know the importance of having proper toilets and washing our hands. We have built modern latrines and live in a cleaner environment. Diarrhea cases have also reduced," explains Alfonsina.
'We are thankful to World Vision for coming to our aid. World Vision not only saved us from a disaster that could have wiped out our entire village but prepared us for others like the corona virus," she adds.
World Vision hopes to build at least 3 boreholes in Shijohni village.