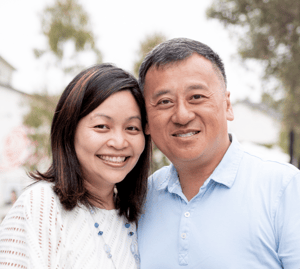 Joe and Amy Wu are members of World Vision's National Leadership Council. This is their story.
Like many immigrants from Taiwan in the 1970s and 1980s, the families of Joe and Amy Wu left behind social networks and established careers to migrate to the United States for their children to access greater educational opportunities. Joe and Amy were both raised in Southern California, in a suburb near Pasadena—Joe since age ten, and Amy since age eight. They eventually met at church while playing music together on the worship team, Joe leading on voice and guitar and Amy on piano. Thirty-plus years later, they still serve together on the worship team at their local church!
Joe and Amy recognize how their parents' courage to leave behind everything familiar and raise them in a foreign country with limited means, ultimately defined who they are today. Amy is a physician in diagnostic radiology and Joe is an attorney specializing in intellectual property and international business. The couple agrees, "Though we lacked in material possessions growing up, our parents gave of themselves as our life models, always encouraging us to ground our lives in Christ." And they see this foundation as being integral to the call on their own lives today. The pair understands this calling on their lives to be: "Increasing the God-given potential in those around us—rich, poor, educated, uneducated—and to invest our lives unleashing hope, thanksgiving, and praise for his glory."
For the Wus, this clear sense of mission isn't a peripheral "extra" to their daily lives. Both believe that God has given them professional skills not only to provide for their own family, but also to partner in what God is doing around them.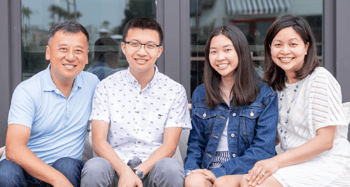 Joe and Amy with their two children
Their unlikely path to partnering with World Vision seems no less than God-ordained. At a reunion of her college Christian fellowship group at Harvard, Amy learned that her friend (Vinh Chung, a World Vision board member with whom she attended college more than twenty years earlier) had written of his family's perilous journey to the United States from Vietnam in the book, Where the Wind Leads. Discovering the remarkable way World Vision intervened to rescue those left to die on abandoned boats in the South China Sea, the Wus wanted to know more. Amy explains, "We could not wait to learn more about this organization because it clearly understood the pulse of God's love for the world."
Joe and Amy express deep gratitude and joy for the privilege of walking with Jesus among others in the World Vision family. After a recent annual National Leadership Council meeting, Joe convinced Amy and two dear friends, Dr. and Mrs. James and Rosanna Lin, that in less than two months they could gather a team to participate in World Vision's Global 6k for Water. Though the timing was tight, they believed it would be worth the effort. So the four set an achievable goal of gathering 50 participants to raise $2500. When the day of the race arrived, over 190 participants joined their church team from families with toddlers in tow to retirees in their seventies! One participant with multiple sclerosis walked part of the 6k, doing what she was able to do. And college students gave from their shoestring budgets, also doing what they could do. Amy reflects, "No matter who we are and what we have, we all have a part to play in God's great redemption story." Between that first 6k and the next one, with each $50 registration, the team raised over $25,000 to help fund safe water sources in communities that lacked access to clean water.
The pair say they are constantly motivated by a charge from former World Vision CEO Rich Stearns in Unfinished: "Whoever you are and wherever you are placed, know that you were placed there by the King for His good purposes."
Want to know how you can make a difference in the world God loves? Contact the National Leadership Council helpdesk to learn more.