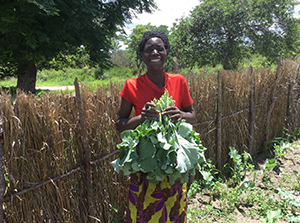 The production of crops has been the mainstay for the people of Shunganu village, a small remote sandy area in Western Zambia. While many people grow cash crops as the main source of livelihood, Harriet Sikumbi, a 40-year-old widowed mother of five, has focused her energies on gardening.
Harriet is a passionate woman with a great zeal for gardening that dates back to her childhood. "I have always loved gardening. Since childhood, that is where my heart is," she says.
Due to growing up in poverty, Harriet was only able to study through the 7th grade and got married at a very tender age. Throughout her marriage, Harriet and her husband relied mainly on gardening to make ends meet for their family, though they occasionally grew some cassava and corn to sell. "My late husband and I always used to have a vegetable garden near the stream. We grew different kinds of vegetables like tomatoes and cabbage," she says. "When we sold the vegetables, we used the money to send our eldest children to school and buy all their school requirements. We never lacked food in our home because of the garden," Harriet says. Even after her husband's death, Harriet could look after her children and send them to school because of her garden.
Unfortunately, the tables turned upside down for Harriet and her family when her village and community started experiencing poor rainfall patterns. "The rains were not very good in the last few years. The stream that I relied on for gardening started drying up, especially between July and October. This became a problem for me. I could no longer have a garden throughout the year to help me support my family," she explains.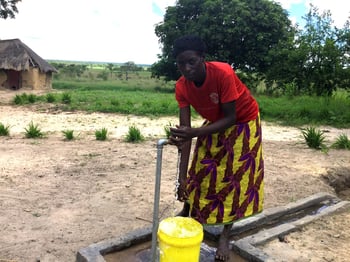 Harriet filling up at the World Vision stand pipe
With time, Harriet had no choice but to start selling her corn and cassava to provide for her family and to meet her children's school requirements. Her crop yield was so low and the stream dried even earlier. "Things have been tough for me the last two years. I had no garden and worse still, I had a caesarian section when giving birth to my last born child. I was not able to work. Two of my children, the ones in grades 6 and 9, had to stop school," she says.
Fortunately for Harriet, hope blossomed when World Vision drilled a mechanized borehole at a clinic in her village. The mechanized water system supplies piped water not only to the clinic, but also to a nearby school and Harriet's village. "Hope finally came for me when World Vision put piped water in our village. Because of the water, I have been able to put up a garden right at my house and use the piped water to water the vegetables," she says.
"I am very thankful to World Vision for coming to my rescue. Last year I was able to have a big garden throughout the year and my two sons have gone back school," Harriet says with a big smile on her face. Harriet makes nearly $2 every day from her vegetable sales and strives to save part of it so that one day, she can send her children to college.