Carl and Carol are members of World Vision's National Leadership Council. This is their story.
In the first forty years of their marriage—that's now lasted over half-a-century—Carl and Carol Wall channeled their charitable Christian giving through their church, the Christian college they'd both attended, and one of their church denomination's seminaries. All worthy choices! But when Carol began serving on the local YWCA board, near their home in in Fargo, North Dakota, the couple was moved in a new direction as the needs of women and children needing shelter from domestic abuse began to tug at Carol's heart.
Then, nine years ago, the couple's oldest daughter invited Carl to join her, and her thirteen-year-old son, Sam, on one of World Vision's Vision Trips to Zambia and Kenya. Though flattered, Carl was not interested. Because he was given eight weeks to respond, he put off responding to Steph, to let her know he was declining.
As the deadline to make the Vision Trip decision approached, the Walls' church pastor started a Sunday morning sermon talking about an extensive debate between Peter, James, and John—called the "three pillars" of the early church—with Paul. Paul wanted to take the story of Jesus Christ to the Gentiles, while the three pillars originally felt the message of the gospel was exclusively for the Jews. Finally, the three men relented on just one condition: that the poor must first always be cared for.
Carl was blown away by what he was learning. These three, who'd just been privileged to witness Jesus' life on earth, were convinced that the top priority of those being saved and redeemed was to care for the poor. They got that from witnessing the life of Jesus for three years!
Carl immediately called Steph to tell her he wanted to go to Africa on the Vision Trip.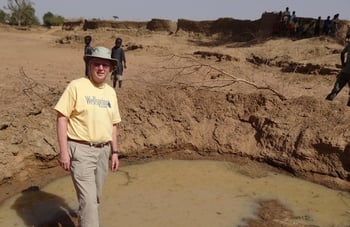 After returning from Africa with a new passion to help the poor, Carl soon joined the Fargo Board of Wellspring For The World. Wellspring is a close partner with World Vision, with all donations going exclusively to WASH (Water, Sanitation and Hygiene) programs.
A few years after Carl's first trip, both Carl and Carol went on a Vision Trip to Ghana. Since then, helping the poor receive clean water has become a passion for them and their extended family.
In addition to donating financially to help the poor, Carl and Carol have become convinced that a few other avenues are requisite: engaging with the issues of the poor right where we live, and inspiring others in the United States to develop a passion for helping people who face poverty. After witnessing the needs of the poor in Africa, Carl and Carol have become passionate about creating that passion in fellow Americans.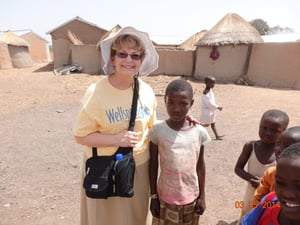 One of the ways they do this is by telling the Wellspring story about the benefits of bringing clean water to the hundreds of million people who have access to only contaminated water. Carl often provides the videos, presentation, and discussion while Carol creates the hospitality in their home and helps with Wellspring group events throughout the community.
Carol engages locally through the couple's church, Hubbard United Methodist Church, which is located in one of the poorest counties in Minnesota. One of the church's outreach efforts is to take local children shopping for school clothes. Carol took one teen, named Becca, out shopping as she headed into her senior year of high school. After shopping together locally at Wal-Mart for several seasons, Carol chose to take Becca to a larger city, where they had fun picking out jeans and tops, some for "everyday" and one even a little "dressy." The thank you note she received from Becca, who typically got her clothes from the local Goodwill store, gushed, "This was the first time I had ever shopped in J.C. Penney's."
Carl is also involved at a local level. When he recently assisted with an art auction, whose proceeds benefited World Vision's WASH program, over two hundred new people learned about bringing clean water to the poorest of the poor, raising almost $70,000.
Eyes opened to the needs of the world God loves, Carl and Carol Wall are making a difference in lives close to home and in lives around the globe.
To learn more about offering your time, talent, and treasure to God's mission in the world, contact the NLC helpdesk for more information.