Lila and John Trull are members of World Vision's National Leadership Council. This is their story.
In 1999 Lila and John Trull, parents of three daughters, visited a Mexican orphanage with their church to relieve staff members in desperate need of a vacation. There a little boy named Fernando captured Lila's heart. When they returned to the orphanage in 2002, the couple discovered that although they'd been praying for Fernando to be reunited with his family, he was still living in the orphanage. When the Trulls left Mexico, Lila told John that it would be too difficult to return unless it was to invite Fernando to become a part of their family. That very night, Lila was awakened by God's voice saying, "Through love all things are possible." Eight months later Fernando joined the Trull family.
John's heart for the poor had been awakened a decade earlier when, as a young adult, he began to notice social and economic disparities around the globe. At the same time he also heard the Bible's clear admonition for those who'd been blessed with wealth to help those in need. He explains, "I realized over a third of Jesus' parables deal with either warnings to the wealthy or commands to help the poor." John adds, "In spite of having a great family, good health, and a successful job, I was feeling increasingly restless and unfulfilled. God used these years to rearrange my thinking about what it meant to truly worship, honor and follow Him."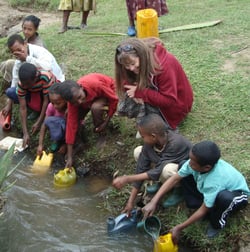 Visiting a village with no access to clean water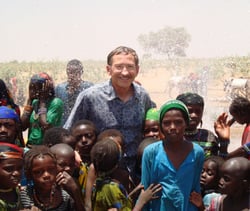 Celebrating the blessing of clean water
A few years later, in the midst of a career in construction management—where he was charged with utilizing people, materials, and equipment effectively and efficiently—John was introduced to World Vision. He was particularly drawn to World Vision's WASH sector that promoted clean water, sanitation, and hygiene, knowing these were foundational for community development to succeed. When John stepped away from his company to pursue other interests, including WASH, his business associates were curious. When the President of the company welcomed him to address the Board, John shared about World Vision's clean water development. This was the starting point for establishing a donor advised fund that has allowed John to engage many business leaders in World Vision's work. He counts these opportunities as evidence of God's providence and grace.
The commitment to children in need that shaped their family, through adoption, has also served to form the next generation of the Trull family. After John and nineteen-year-old Fernando spent a week together at a soccer camp in Ethiopia, the Trulls gave their youngest daughter Lisa, who'd played soccer in high school, a trip to the sports camp when she earned her master's degree. After that experience, Lisa returned to Addis Ababa to help launch a child development organization where she met her future husband, Atkelt Simon.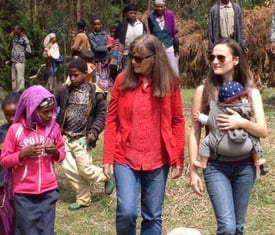 Lila with daughter Lisa and grandson in Ethiopia
When John and Lila attended their daughter's wedding in Ethiopia in 2012, they were able to visit two villages with World Vision. One had enjoyed the blessing of clean water for years, and the other had not, due to a rugged and steep terrain. A tall thin desperate father in the second village begged the visitors, "We need clear water, our children are dying." Lila says, "His face and words are permanently etched in my memory." And like the Trull's lasting commitment to one unforgettable boy from Mexico, the couple partnered with World Vision and others to bring clean water to the village through a large water distribution project. In 2015, in addition to visiting their new grandson when they attended a Water Conference in Ethiopia, John and Lila were able to return to see the large distribution project that included the village they had visited just three years earlier.
Today the words God spoke to Lila's heart about the boy she'd grown to love have rippled through the Trulls' lives to bless countless other children and families: "Through love all things are possible."
To learn more about love can make possible through you, contact the National Leadership Council helpdesk.