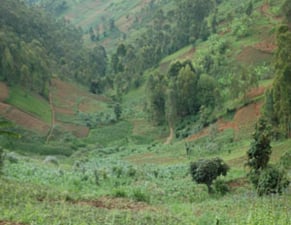 The topography of the former, unsafe water source
The Rukore region has seven villages, with three of the villages drawing water from one shared point. Before World Vision, the three villages did not have safe drinking water. Many of the school children either missed class regularly to fetch water several miles from their homes or because they were sick from drinking dirty water. Parents could not practice proper hygiene due to low water accessibility.
The majority of the people in this area live in the hills. With the water in the low plain, this created a lot of hardship for children, who do the water fetching as a home chore.
The children fetched water from an ordinary water source, taking about 40-60 minutes to walk to that water point. This water source wasn't just far away, but unclean as well.
Life changed when World Vision constructed a water point in Rukore. The Rukore water facility is a one-point water tap extension, which serves three villages of over 300 families. When water arrived at Rukore in this remote countryside of Rwanda, it gave children and their parents hope for the future. It provided a foundation for the children to dream – they stayed healthy and started attending school regularly.
''Water is changing all of this. Water gives health, time, and education. It gives students hope and joy. It gives them a chance to reach their full potential,'' says Marie Grace, Chris' 29-year-old mother, a beneficiary of the Rukore water point.
In these villages, mostly children carry out the burden of collecting water. "My son Chris (9 years old) used to walk for a distance of about one hour to fetch water in the lowlands. It was such a long walk from our home, and it was always exhausting for my child. The situation has changed ever since World Vision built for us water taps, providing clean water and easy access to it," Marie Grace says.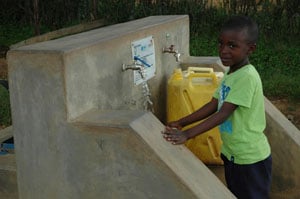 Chris fetching water from a safe & convenient water source
Marie Grace further noted, ''We have registered sanitation and hygiene-related disease improvements from 4.6% to 1.8% within just the last five months. Our children can drink clean water and can wash their bodies without necessarily worrying of the water accessibility. Our children can reach school in time, which has improved their performance…pregnant mothers no longer walk long distances for water, which is a guaranteed safety for their unborn babies,'' says Marie Claire.
Chris is happy about the new water point since it saves him from travelling long distances every day. "I can now fetch water and go to play with my friends," says Chris. The prayer going forward is to extend the water supply to the remaining communities in Rukore.