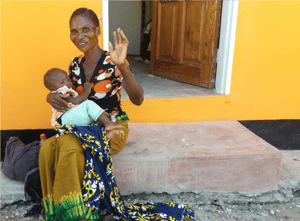 Martha became a member of her local Safe Motherhood Action Group after giving birth to eight children without any of the knowledge she now shares with her pregnant neighbors. Her lack of knowledge nearly cost Martha her life during one of her deliveries.
At 34, Martha Nvula has had eight children, the youngest just shy of a year old. She and her husband live nearly 22 miles from a facility that handles baby deliveries, which meant she took great risks each time she got pregnant.
Martha didn't understand the importance of prenatal care and planning for deliveries, and three times she gave birth along the route to the health facility—once nearly losing her life because of complications.
Martha jumped at the opportunity to join a Safe Motherhood Action Group in her village. She learned about timed and targeted counseling (ttC), which is the developing world's version of the iconic pregnancy book, "What to Expect When You're Expecting."
Martha learned how to teach pregnant and nursing women in her community the measures they must take to have a safe, healthy pregnancy and how to best care for themselves and their babies.
The training sessions were eye- opening. "For many years, I didn't understand issues surrounding pregnancy and feeding children. … My mind was opened up and I have become a champion for women in my community," she said, proudly.
Martha provides health counseling to pregnant women and their husbands on how to plan for a healthy pregnancy and safe delivery. "I encourage pregnant women to deliver at the clinic so they are assisted by a nurse, and teach them to plan for transport, because labor can start any time during the day or night," she added.
Martha said she believes teaching families about good maternal and child healthcare is the duty of the entire community. "Because good health is important to all of us, I decided to extend my counseling activities in the church as well."
The leader of her community of Mwambashi, Zambia agrees, and with his support, Martha has found the doors to local churches open to her presentations on maternal and child health.
She feels responsible for the six pregnant women she has enrolled in the ttC program, and never misses a counseling visit to their homes. "A lot of women used to deliver at home, but now the numbers are reducing. This is because of the teaching and counseling of pregnant women and their husbands on birth planning," Martha said.