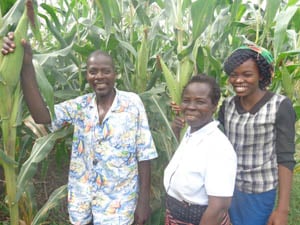 Killion, aged 51, and his family struggled with life. Born and raised in Mng'ona village in the Chilenje community, he accepted the status quo of being a villager. Poverty was part of life. He never produced enough maize (corn) to last all year round due to poor farming practices. As a family, they were sleeping in a grass-thatched house that would leak during the rainy season. "Life was difficult. We lacked food especially during the lean periods. We used to sleep in a grass-thatched house.
Adding salt to the wound, at times when [the roof] leaked, our hard to find flour could get destroyed especially if it rained in the night," said Killion. For him, farming was a tradition not an effective way to provide for his family.
But two years ago, Killion had an opportunity to attend an Empowered World View training organized by the Transforming Household Resilience in Vulnerable Environments (THRIVE) project, courtesy of World Vision. The modules aim to challenge people's mind set and help them to develop a better world view. "For me, this was the beginning of change in my life and household. I came back with a transformed mind set," says Killion with a smile on his face.
After the training, Killion and his wife started to take farming seriously and make it a business. He was appointed one of the project champions. Feeling energized by this, he started growing soya beans and maize (corn) using the modern farming methods. Currently he is able to harvest over 50 bags of soya beans and over 70 bags of maize from one acre of land. He also grows a pepper used to make paprika which brings him good money. Killion has begun raising chickens and is now able to earn money from farming and livestock sales.
Killion and his family are living a better life. "I am one of the people who have benefitted so much from World Vision's multi-faceted development interventions in Chilenje Area Program," says Killion. "Now, I am not among the poor people in this community," he says with a laugh. It is evident that life has changed for the better for this household. They now enjoy three meals a day including breakfast which was not the case three years ago. "Now we are able to drink tea in the morning. But at the same time, we have the freedom to eat the type of food we want. Anytime we want to buy meat, we do," added Felekisi, Killion's wife. Killion is planning to enroll his only girl child Sharon (20 years) at Zomba Vocational College to study Public health this year. Killion has built a brick house with a roof made of iron sheets and installed a solar electricity system.
As a project champion, he continues to dream big. Currently, he uses the family's traditional land, but he has a vision to buy a neutral place for settlement and farming for his family so that even after he dies, nobody will snatch that land from his child and wife.