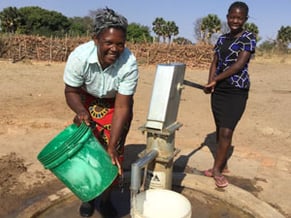 Cheelo & her daughter at the new well
For the Mweene family of Hamoombe village in southern Zambia, April 18, 2016 will always remain one of the most painful days - a day with memories of deep sorrow. It was that day 6-year-old Kezia drowned after slipping and falling into the deep well her family and 18 other households in the Hamoombe community relied on for water. The well was nearly 30 feet deep, hand-dug and unprotected.
Kezia was the second to last born in the family. She enjoyed singing, dancing and playing with her friends. "Our little girl was a very jovial and active person," says 42-year-old Cheelo, Kezia's mother.
"She loved school and was looking forward to going into the first grade. She would have made a very bright student."
Cheelo, her husband Bright, and their children (three girls and four boys) have lived in Hamoombe village located in World Vision's Mbeza Area Program (AP) for nearly thirty years. For many years, their only water source was the unprotected well. Though the water in the well looked very clean, it was contaminated and often made them sick of waterborne diseases like diarrhea. "The children were the most affected," Cheelo says. "We spent most of our time nursing our children and very little on productive activities," she explains.
As though drinking contaminated water was not bad enough, the wells were very hazardous to the people of Hamoombe, especially girls who are tasked with the role of helping their mothers fetch water. Apart from Kezia, several other children in this village fell into the well, four of whom drowned. "Losing a child is one of the most painful things that could ever happen to anyone. Our family was really lost, and nothing will ever fill the gap that my child left in our lives," Cheelo says with teary eyes.
Cheelo & Bright's family can smile again
Fortunately for the people of Hamoombe village, World Vision, through its robust water, sanitation and hygiene program, sank a borehole for them. The borehole has not only provided clean and safe water for them, it has also reduced incidences of waterborne diseases and calamities. As a result of the borehole, women in Hamoombe village now spend less time nursing their young back to health and more time in productive ventures, like gardening.
Today, every parent in Hamoombe village is hopeful that their children can stay healthy, be educated and become better citizens of Zambia. The new water point has also saved the Mweene family the torment of going back to the place their beloved Kezia lost her life. The joy of having a new well has helped the family heal. "Our lives have really changed for the better, thanks to World Vision," Cheelo says. "Even though our little girl is no more, I am comforted because no family in our village will ever suffer the loss of losing a child as a result of not having a safe water source," she adds.