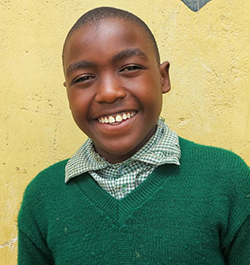 It's exactly 12:00 noon and I can feel the heat wave from the scorching sun as we make our way to Wetaa Primary School in Machakos County.
Our mission is to meet Daniel Katunga Mutuku (13), a grade 7 student, who is the school's Bible club leader. It took us a short time to find Daniel, who is well known to the teachers and pupils due to his musical and rhythmic aptitude. He found his passion early in life. "I fellowship at Sacred Heart Wetaa Catholic Church and where I attend Sunday school. At school I lead the school Bible club and l love singing and learning how to play a piano. When I grow up I want to be a gospel singer," shared Daniel.
As a result of his participation in the Bible club, Daniel was selected to attend a week long leader's development training during the school holiday. The training was provided by World Vision Kenya through a partnership with Scriptural Union and local schools. Festus Matheka, a facilitator from Scriptural Union says, "We focus on teaching these pupils issues that their teachers miss out in imparting to them like character formation, leadership and communication skills, personal confidence, spiritual development and having a positive self-esteem. This is to enable them to commune with God independently and be able to share the gospel with other pupils."
Asked what he learned from the training, Daniel said that he learned more about God and how to be a good Bible club leader. "I realized for me to be a good Bible club leader, I need to have good morals and be a role model to my other pupils. Leaders have power to influence and motivate others and also having good communications skills." The training also exposed Daniel to other children Bible leaders and were able to share challenges and how to overcome them.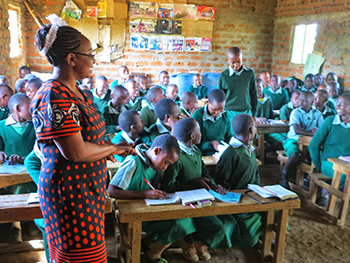 Carmielina teaches a lesson at the Wetaa Primary School Bible Club
Carmelina Muthama, the teacher of the Bible club says that since the introduction of the Bible club in the school, there has been positive moral and behavior change among the pupils. She recalled an incident where a parent confessed to her that 'she had a pastor at home,' referring to her child who recites Bible verses, prays and shares the Word at home. The children are also given Bibles as well as devotional materials, which they share with their parents. "The children are able to inculcate the knowledge learned in clubs with what they are taught in class and as a result they are able to per-form better in social studies course (which include ethics and Christian religious studies)." she added.
The school has benefited from World Vision Water interventions and enjoys direct water connections from the Mango borehole to the school and community. Daniel says "World Vision has given us three big storage tanks as well as installing hand washing facilities for us. We also have enjoyed modern VIP [Ventilated Improved Pit] latrines built by World Vision."
Carmelina cannot hide her excitement and she says, "We continue to receive good reports of our students who excel in their scripture union clubs once they transition to high school. I foresee generations that will be zealous for the things of God and willing to live moral upright lives. Thank you World Vision and Scripture Union."
I was fortunate to have visited the school on a day when the Bible club was meeting. As Daniel walked to the front of the class to lead the praise and worship session, the room became electric with melodious sounds. It dawned on me that a talent was being nurtured and a God-fearing generation was in the making.