Sherree Funk is a member of World Vision's National Leadership Council.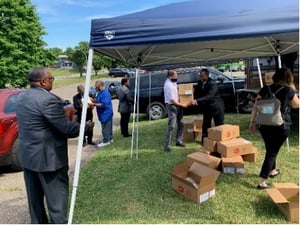 One of World Vision's greatest strengths is the multiplication of resource and impact through partnership. WV partnerships around the world leverage donors' gifts so greatly that every dollar given yields $1.30 in impact. Here in the USA, when the lamentable COVID-19 shutdown produced joblessness, despair, and food insecurity, World Vision proved once again the power of partnership.
Jim and I were able to see and marvel at this expertise in June, when we were invited to a food distribution event here in Pittsburgh. We knew that World Vision was committed to thirteen weeks of food boxes for 100 needy families, right here in Pittsburgh, as a way to help people dealing with economic hardships. We didn't know how much more they were doing. This event opened our eyes.
We drove across town to East Liberty, to the Pentecostal Temple Church of God in Christ.
As we walked into the church wearing our masks, we noticed trucks with food boxes being unloaded in tent canopies. Once inside we were welcomed by Javy Diaz, Senior Church Advisor at World Vision. Javy introduced us to several more people gathered there.
We met Dave Donaldson and Wendell Vinson, co-founders of CityServe International, an organization interested in helping churches meet the needs of their communities. Donaldson formerly headed Convoy of Hope, another faith-based humanitarian organization. Vinson is pastor of Canyonlands Church in California. The two men are editors of a great book: CITYSERVE: Your Guide to Church-Based Compassion, which is full of expert advice for churches wanting to expand compassion to their communities. (World Vision's Steve Haas is a contributing author.)
We met with Reed Slattery, WV US Programs National Director, who has been working tirelessly since March to expand World Vision's COVID response here in the US, helping a million people in just 130 days!
We also met an independent food distributor from Pennsylvania who became a partner in World Vision's COVID response through an amazing working of the Holy Spirit. But that's another story.
When COVID forced the closing of virtually all restaurants in the country, farmers were forced to throw away good food, pour out milk, etc. At the same time, food pantries everywhere were facing shortages despite growing needs due to job loss. A new USDA project called Farmers to Families was born. This program allows farmers to produce and sell products and provides grants to distributors to continue business relationships. Then, instead of the food being sold to restaurants, the food is donated and distributed directly to those in need.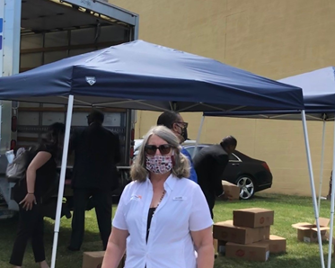 NLC Member Sheree Funk ready to work.
World Vision was already working to distribute food boxes in about thirteen cities and had gained valuable experience in the effort. Reed Slattery had been praying for a reliable supplier of healthy food for the World Vision food boxes, and Farmers to Families was an answer to Reed's prayer. God weaves people together in amazing ways. With the help of the CityServe partnership, independent food distributors, and churches in dozens of cities nationwide, World Vision has been able to expand its COVID response to over 50 cities, including New Orleans, which had been a prayer of ours.
Jim and I were blessed to witness such a coming together of partners in such a compassionate undertaking, one that resulted in generous benefits and fresh food for so many. In the midst of great crises, God answers prayers and puts together unlikely partners for the benefit of His beloved humanity.
A quote from Scott Wilson in the CityServe book: "When we redefine success as partnerships and selfless service, everybody wins." At this event, we saw how fully World Vision embodies this principle. If you get a chance to participate in one of these food distributions, it is truly worth your time.
Sherree and Jim Funk are members of the National Leadership Council.
You can learn more about World Vision's response to the Coronavirus here.
To see more about the famers-to-families program please visit their website.
Additional details about City Serve are available online.