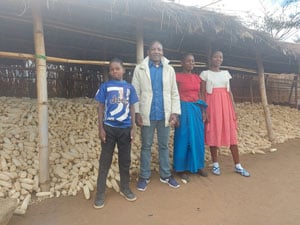 Sainani Phinifolo remembers the frustration of trying to sell his farm produce. In many African countries, farmers do not reap the expected dividends from their farming because they are cheated by local vendors who will buy their produce at lower prices and later sell the same at higher prices. Sainani, 37, is one of the farmers who has suffered at the hands of local vendors.
The story is changed for Sainani and his friends in Nkhoma Area Program because of THRIVE, World Vision's Transforming Household Resilience in Vulnerable Environments project.
Malawi farmers have harvested bumper yields this year, especially with maize and legumes. THRIVE volunteer Sainani has not missed out. Married with four children, Sainani joined THRIVE in 2016 and became a lead farmer the same year. He is now a Commercial Village Trade Facilitator (CVTF), helping fellow farmers to access better markets.
"As a CVTF, my main role is to work together with lead farmers to ensure that we sell our crops in bulk at a common selling point, a "commercial village" in a drive to access organized markets for better prices," he explains.
Sainani is in charge of the Kwanji Commercial Village (CV) at Kwanji Village. "Our CV is composed of five clubs with a total of 105 farming families – women are in majority. They are in majority because the women are apparently more interested than men," he says. "Our main challenge for now is lack of warehouse. We currently sell the products on an open ground," Sainani says. With more warehouse space, the farmers will be able to store their produce while waiting for buyers.
"This year, as a CV, we have already sold 73 bags of soybeans, each weighing 50 kilograms. The highest price the soy fetched was K480 (about $0.62) a kilo," added Sainani. The group is optimistic of better prices in this year's marketing season. "We are even more hopeful because as a CV, we sell the products in bulk and as a group we are able to negotiate for better prices," he says.
To endure that he maximizes the economic fortunes that THRIVE has unlocked, Sainani joined a local Savings for Transformation (S4T) group called Kabefu. His share-out was K95,000 (about $122) last year. Apart from relying on membership contributions, the Kabefu S4T Group obtained a group loan worth K700,000 (about $896) from Vision Fund Malawi. "From that group loan, I obtained a K60,000 (about $77) individual loan," he says.
Sainani and his wife work together in performing different household activities. "For example, we do budgeting and joint decision making as a family," he says.
Sainani's family grows maize, soy beans, groundnuts, tomatoes, and cassava. Their efforts have paid off and from the sales this year, he has made quite a fortune. "We have bought eight goats, one cow, a motorcycle and I paid school fees for my children." Smiling, he says, "Our life as a family has greatly improved this time around."