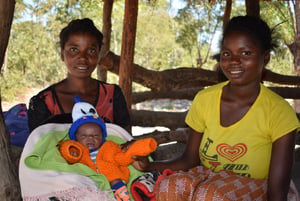 Sabina Mulenga's story is all too familiar as she tells it. Laying asleep on a mat in the tiny grass-thatched house, was Sabina covered with an old thin blanket. At just 17, she was heavily pregnant, alone and experiencing agonizing abdominal pains on that early morning. This was her first pregnancy.
Her mother had left in the early morning for the field in search of food. Soon the bleeding started. "I was in severe pain and bleeding…I sensed danger and got into a panic. I didn't know what to do," Sabina says. Sabina didn't realize she was experiencing labor pains until her mother, Malita Mutale, 40, arrived home and explained the situation to her.
"Mum, with her neighbor's help, prepared a razor blade, some rags and spread a sizeable synthetic sack on the ground within the house as my delivery bed. They shouted louder and angrily to force me to deliver," Sabina says. She adds, ''I struggled for a long time to deliver. I got weak and was bleeding a lot. Mum told me the baby was in breach position, coming out with legs first. I was very excited when I was told it was a baby boy, I wanted to have a baby boy for my first born. Unfortunately, I was told it was a stillborn baby. I cried with so much pain in heart for many months."
When Sabina conceived again, there were new options in her community. "This time I started praying for God to help me bear a live baby," she says. Thankfully, World Vision had just trained Safe Motherhood Action Group (SMAG) volunteers in Timed Targeted Counselling (TTC). Morgan Chongo, 38, was one of them. He began to visit Sabina and her mother to teach them about safe motherhood.
"Morgan's visits and teachings about safe motherhood made me feel guilty – I realized I was the cause of my grandson's death. I thought I was more experienced than the midwives in clinics. I had delivered myself, three times before, and helped others including my daughter," Malita explains. "Had I known, I would have taken my daughter to the clinic early to deliver there. I will never make such a mistake in my life again and I have asked God to forgive me."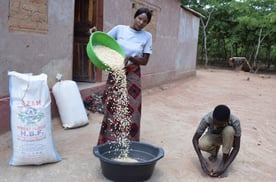 Sabina listens to Morgan, learning how to care for her newborn son, Richard
Today, God has blessed Sabina with another baby boy named Richard. Sabina and Malita are filled with joy, giving thanks to World Vision for the work the volunteers are doing through TTC. Their work is saving lives. "I was ignorant and in darkness but now my eyes are open," Malita says.
"I am grateful to God. Had it not been for World Vision, we would not know the importance of delivering at a health facility and may have lost Richard, too," Sabina says.
World Vision's TTC health program model has helped save lives of mothers and unborn babies through the counseling they receive from volunteers like Morgan. The SMAG volunteers, men and women, are changing mindsets and helping more babies be born in safe conditions.