April and Kevin are members of World Vision's National Leadership Council. This is their story.
April and Kevin Sproles, now raising two preschool-aged daughters, were just twenty-five and twenty-six years old when they traveled with World Vision to Ethiopia for a Vision Trip in 2008. But God had been preparing their hearts—since long before they met each other!—to impact a world in need.
If you'd asked Kevin, as a child, if he'd grow up to build and operate a Fortune 10 company, he would have answered without hesitation, "Yes!" Kevin's parents had sponsored several children through World Vision when he was growing up, and his ambitious goals also included making a difference in the world by reducing poverty. Kevin had noticed that what those who were doing effective work around the globe most needed to make a substantial impact was funding. So he planned to be a part of the solution to eliminate poverty when he grew up.
Like Kevin, April had also been raised by her family to give back through compassionate service. When April was in college, her new exposure to the world's needs caused her to ask some hard questions about organizations that were doing development work around the globe. She explains, "I started to have concern that well-meaning western NGOs might lack cultural sensitivity, and be a detriment to cultures in other countries." April had discerned what has been historically true of many well-meaning organizations.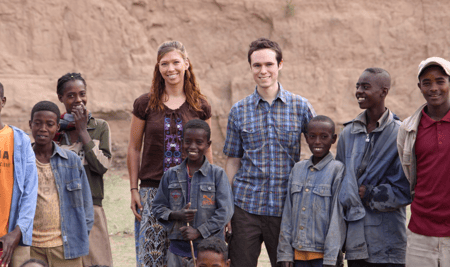 The Sproles on their Vision Trip to Ethiopia
Around that time, April started dating Kevin, who'd been involved with World Vision ever since his family had sponsored their first child when Kevin was 13: a little girl from Kenya whose photo was posted on the family refrigerator. Though skeptical about the global non-profit, April was willing to give Kevin, and World Vision, a chance! She offers, "I did my homework; I researched World Vision and learned that they are one of the most respectful, intentional, culturally aware organizations." A year after they met, Kevin and April traveled to Ethiopia to see the work of World Vision firsthand.
At the time, April was working as a caregiver in a residential placement for children in the foster care system in California. On that Vision Trip, she recognized that many of the families she'd met in Ethiopia needed the same things families needed in the U.S.: support, resources, and encouragement. As a result, she became passionate about World Vision's Child Protection work.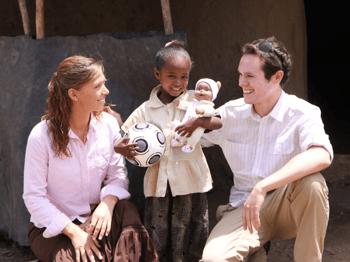 This little girl is thrilled to receive some gifts from the Sproles
Kevin, who runs Volusion, an e-commerce software company he started when he was sixteen, is most interested in World Vision's work in innovation and economic development. In Ethiopia he was able to witness the way microloans are empowering people in the community to launch businesses like building chicken coops or purchasing seeds and being trained in farming techniques.
Jeff Witten, of World Vision, works with many donors who are making the most of their retirement years by actively giving back at the end of a flourishing career. He raves, "I don't work with many people in their early twenties! Kevin and April are a force for good and have blessed thousands of people through their World Vision partnership."
It's no surprise that today Kevin and April are beginning to recognize a heart of compassion in their young daughters. When their four-year-old recently asked to help a man with a sign asking for help at an intersection, she was imitating her parents' concern—and action!—for the ones Jesus loves.
To learn more about offering your time, talent, and treasure to God's mission in the world, contact the NLC helpdesk for more information.