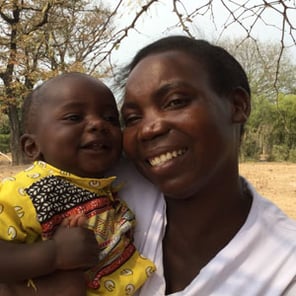 Teresa with her last born son
While health facilities play a critical role in preventing stillbirths and improving new born survival, most women in some rural, isolated communities in Zambia were, until recently, subjected to unsanitary environments while giving birth at these clinics.
"I dreaded giving birth from the clinic because of what I went through when giving birth to my first three children," says 35-year-old Teresa Siambulato of Mweemba Village in southern Zambia.
Teresa is a happily married mother of four handsome boys, whose ages range between 10 months and 10 years. She adores children and always looked forward to giving birth to her own at the Kayuni Rural Health Center—the only health facility in her village.
Unfortunately, her first three experiences at the facility were far from what she expected.
"When I arrived at the clinic to deliver my babies, there was only one bed. We had to take turns to deliver," Teresa says. "I went for hours without bathing because there was no readily available water."
Both the health personnel and expectant mothers relied on a semi-functional borehole for water. Sadly, the borehole would completely dry up in the hot season, forcing relatives of the pregnant women to go and fetch water from a nearby stream about one and a half kilometers from the health facility.
"For us, not having running water in the delivery room made us very sad. It was very difficult to keep the place clean and safe for the mothers and babies or even clean and sterilize our equipment," says Faith Chinyama, a midwife at Kayuni Rural Health Center. "The environment made the mothers and babies prone to infections," she adds.
As though giving birth in an unconducive atmosphere was not bad enough, accessing a clean and safe toilet was not possible. Pregnant women used one pit latrine for bathing and relieving themselves. Worse still, the midwives could not conduct deliveries to the best of their abilities. "We could not manage simple procedures like resuscitating a baby. We knew what to do and how to do it but had limited equipment," Faith says.
After the birth of her third child, Teresa vowed never to deliver at the health center again. However, she received consistent counsel from a community health worker trained by World Vision to provide crucial information about prenatal and postnatal care and nutrition for mother and child; the health worker encouraged Teresa to change her mind. In 2018, Teresa gave birth to her fourth born son at Kayuni. Her experience changed her story for the better.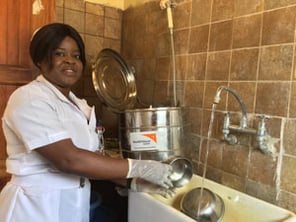 Nurse Faith cleaning utensils used to deliver babies at the Kayuni Health Center
World Vision, through its world class water, sanitation and hygiene (WASH) and health programs, had a year earlier rehabilitated and transformed the labor ward at Kayuni using several BabyWASH interventions, including running water in the delivery room to prevent infections, flushable toilets and bathing facilities to improve hygiene so women can stay clean and healthy, as well as medical equipment for safe births and improved infant care.
"I could not believe that I was in the same place. It was extra clean with new beds and equipment. It smelled good too," Teresa says smilingly. "I was able to take a shower immediately after delivering and use a flushable toilet inside the labor ward. I felt safe throughout the whole time," she explains.
For the nurses, work became much easier and more enjoyable. "We are grateful to World Vision for bringing lifesaving transformation to our facility. God bless you," Faith says.