Linda and Barry are members of World Vision's National Leadership Council. This is their story.
When their sons were seventeen and nineteen years-old, Linda and Barry Rowan organized a family meeting. Purposing to walk more intentionally with the poor, as a family, the Rowans identified the criteria that were most important to them.
First, the work would need to address the structural causes of poverty in sustainable ways. Secondly, the family was committed to investing in work that was relational, not transactional. They wanted to know the people they were walking alongside, building lasting relationships and knowing people's stories, struggles, and dreams. Thirdly, they wanted to spend time together in meaningful work on behalf of the least of these. Although dollars were involved, the family wanted to invest their lives—the time, talent, and treasure—as a family. Finally, because their son Mark had a particular love for Latin America, the family interviewed nonprofit organizations who were actively breaking the poverty cycle in those countries.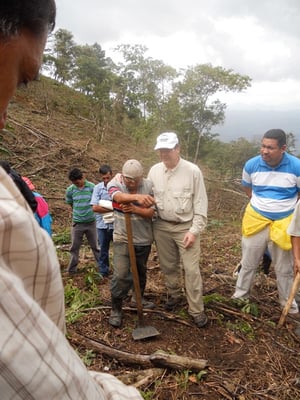 Barry praying with Honduran farmers
Linda offers, "Our engagement with the poor has changed the trajectory of our life as a family and the individual lives of our sons." After studying Spanish in Costa Rica, Mark later volunteered for eight months with Habitat for Humanity in El Salvador before pursuing law school. Today Mark is helping those with limited physical resources as an attorney. David joined a strategy study team for an orphanage in Honduras, where he discovered the power of business thinking to address the world's most plaguing problems, spurring him to earn an MBA. Today Linda, Barry, Mark, David, and both the young men's wives, remain committed to loving and walking with those in need.
Through their engagement, the Rowan family has seen many lives changed.
Linda carries a photo of a Honduran woman named Daisy with whom she has a relationship. Daisy glowed with joy when she proudly turned on the simple faucet in her kitchen, sharing with Linda how—because of World Vision's gift of clean water—the health of her family had improved and her children could now attend school. Instead of walking miles every day to collect contaminated water, Daisy now invests that time in her new coffee business.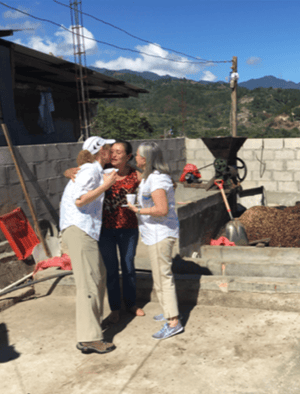 Linda praying over Daisy by the coffee production area
One surprising transformation was the life of Faith, a precocious Harvard graduate student who joined the Rowans on a trip to Central America with World Vision. After spending days listening to Scripture in the morning through Lectio Divina, walking with the poor during the day, and processing their experiences in the evenings, Barry and Linda saw Faith's heart softening. Riding on the bus between projects, they asked her, "What do you think God is talking to you about on this trip?" With moistened eyes, Faith responded, "Through these people God is showing me who he wants me to become."
Through the years Barry and Linda have seen the lives of the poor transformed. But they've also been offered precious opportunities, among the poor, to be transformed. Linda explains, "One of the great gifts is to have been able to do this as a couple and as a family." She continues, "It has bonded us in a common purpose and we have experienced the joy of joining God in his work. We have learned, 'When we are close to the poor, we are close to the heart of God.'"
To learn more about offering your time, talent, and treasure to God's mission in the world, contact the NLC helpdesk for more information.