Julie Razwick is a member of World Vision's National Leadership Council. This is her story.
When World Vision would visit Julie Razwick's church in Redmond, Washington, inviting church members to partner in the ministry through child sponsorship, she couldn't resist sponsoring a new child each time.
Though she blamed it on their cute faces, God was planting seeds in Julie's heart, one child at a time.
But when Julie was traveling in Egypt, the desperate need among so many of the world's children gripped her in a new way. Julie happened to glance out the window of the tour bus, looking into a truck carrying garbage that was driving beside the bus. In the midst of the filthy heap was a little boy, five or six years old, who was about the age of Julie's own grandson. He was wearing a blue shirt and light-colored shorts. The little boy paused from digging through the garbage, where he was salvaging for food, to lock eyes with Julie.
She reports, "His eyes were filled with a mixture of fear, anger, and shame."
In that moment Julie, who'd been gripped by the awful reality, realized, "No child should ever have to dig through garbage to survive."
At the time, Julie was a recently single mother of two grown children who, herself, had been raised by a single mother. Although her own children had food on their plates every night, Julie's heart had already been drawn to single mothers in the U.S. who struggled to provide for their families.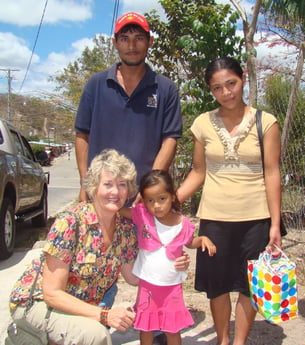 Meeting little Scarlet in Nicaragua
Julie explains, "As my relationship with God deepened, He transformed me and taught me of his unconditional and faithful love for women, children, and families."
When Julie's dear friends invited her to join a Vision Trip to Nicaragua, she had the opportunity to see the work of World Vision firsthand. By what Julie calls a "God-planned coincidence," she was able to meet the little girl she sponsored there, at that time a shy four-year-old. Julie recalls, of the programs she witnessed, "I was very impressed with the quality and commitment of the staff and the powerful work being accomplished."
Oh the heels of that trip, Julie sensed she was being called to serve in a way that made a lasting impact in children's lives. After saying yes to an invitation to join World Vision's National Leadership Council, Julie committed to sponsoring a child in each of the sixteen countries in World Vision's For Every Child campaign.
Julie testifies that her life has become much richer as she's been changed by the work she's now been privileged to witness around the globe: she has prayed with a Nicaraguan community beside their newly-dug well; she's walked freshly plowed fields in Tanzania with a proud farmer named Theresa; she's visited the safe refuges that have been created for children among brothels in Bangladesh. And during a recent trip to Cambodia, Julie met with husbands and wives whose marriages had been healed—and domestic abuse ended—through learning and applying godly principles.
This beautiful legacy of serving won't end with Julie. She's already taken several of her grandchildren to serve among those who are homeless in Seattle, and she's now planning to take her oldest grandchild on a Vision Trip to Honduras. There they'll both have the opportunity to meet the boy she sponsors who's the same age as her grandson. In God's unlikely economy, yet another life will become richer by witnessing God's faithfulness among those who are materially poor.
To learn how you can opt for the rich life that comes from joining God's work among the poor, contact the NLC helpdesk for more information.