Partnership has impacted 6.4 million people and provided 2 billion liters of clean water in 37 countries.
Innovative P&G Purifier of Water packets provide instant relief in natural disasters and "a bridge" to long-term water solutions.
In just the last year, P&G has provided grants so that World Vision can provide more than 350 million liters of clean water in 10 countries in Asia and Africa including for the drought in East Africa.
Procter & Gamble and World Vision are celebrating a decade of partnership, providing a powerful example of what can happen when the private sector and non-profit sphere work together. Their combined efforts have impacted 6.4 million people and provided 2 billion liters of clean water in 37 countries.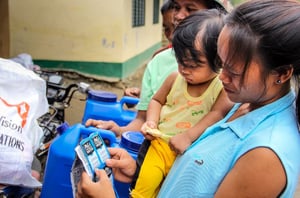 World Vision in partnership with Procter & Gamble distributed relief supplies to victims of the Mindano floods in the Philippines in 2017. Donna pictured above is reading the instructions on her P&G water purifier packets. "I want to learn how to use it right," she says.
"What's so exciting is we're bringing together the world's largest NGO provider of clean water and the world's largest consumer products company," said Allison Tummon Kamphuis, Leader of the P&G Children's Safe Drinking Water Program. "With our combined size and scale, we've seen impact that is literally life-changing for millions of children and their families."
The partnership comes at a time of both tremendous progress and stark need around the world when it comes to clean water. Millions are forced to drink dirty, contaminated water. Nearly 1000 children die every day as a result of drinking unsafe water, and due to poor sanitation and hygiene.
"In the many communities I've visited, whether it's a village afflicted by severe poverty, natural disaster, or drought, water is the key unlocking a better life for families and children," said Dr. Greg Allgood, Vice President of Water at World Vision. "Access to clean water impacts every facet of a family's life. It improves health, enables kids to get an education, and empowers families economically."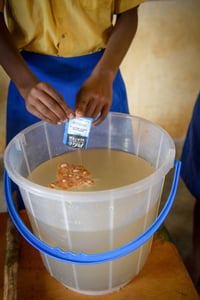 Students in the WASH club at Cyugaro Primary School in East Africa demonstrate how to use the P&G water purification packets.
One of the central features of the partnership are the innovative P&G Purifier of Water packets. More than 200 million P&G packets have been given to families throughout World Vision communities. Within 30 minutes the small packet transforms brown, dirty and potentially dangerous water into clean and healthy water for drinking.
The packets are used as a life-changing bridge in communities where World Vision works and plans to bring a permanent, clean water source. They also are a tool in disaster response and are currently being used in East Africa where families are experiencing severe drought.
"I'm so grateful to P&G and WV for providing us with clean water. It's helped my family during this drought. It's saving lives," said Halima Osman, a mother of 8 children.
Osman lives in one of the areas in Kenya that is struggling due to food insecurity and drought. Her family is forced to use very muddy, shallow water and prior to having the P&G packets, the children had diarrhea. They have been using the packets for 6 months.
"We're committed to continuing our partnership and bringing the power of clean water to those who need it," Allgood said. "We're thankful for P&G supporting our work in 10 countries in Asia and Africa in the last year by helping us provide more than 350 million liters of clean water including in East Africa for the drought response."
World Vision is the largest nongovernmental (NGO) provider of clean water in the developing world, reaching one new person clean water every 10 seconds and reaching three more schools every day with clean water. In 2017, World Vision provided access to clean water to 3.2 million people.