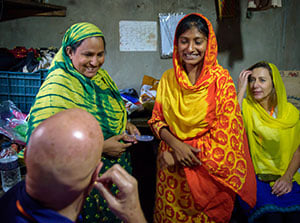 Meet Bilkis, a 38-year-old mom in Bangladesh and her teenage daughter Sadia. Those smiles were rare three years ago when they were both working in a shrimp factory just trying to survive. Before World Vision started working in their community, they had no hope. But today, they can see a brighter future.
World Vision's child protection program in Bangladesh works alongside parents, employers, and families to remove children from hazardous labor. And it doesn't stop there. Instead, families learn how to dream — sometimes for the first time — of a future filled with promise.
In the United States right now, many people are making plans to celebrate their moms. But for so many mothers in the slums of Bangladesh, poverty leaves little room for celebration. Despite their hard work, many mothers can't earn enough money to feed their families. Then they're forced to make the awful decision to pull their children out of school and put them into hazardous jobs at places like welding shops, auto repair businesses, or shrimp factories.
Bilkis Begum, age 38, worked at a shrimp factory in Khulna, Bangladesh, for eight years to support her family. Things got so desperate that she had to pull her own daughter into a job there when Sadia was 14 years old.
Bilkis herself was just 13 when her own parents forced her to marry a man who had been crippled by childhood polio. Why? Because her parents struggled to provide food for six children and needed one less mouth to feed.
Her husband can't work, so he begs in the Khulna streets. But that is not enough to support his family. Bilkis wanted her four children to have more choices than she had herself, but it looked like those same limitations would plague Sadia.
"It broke my dreams" - Sadia
The stench, the cold, the darkness, and the often-abusive managers created horrible working conditions. But it was more than the physical discomfort.
"It broke my dreams," says Sadia.
Bilkis adds, "When I was cutting the head of the shrimp, then it cut my dream into pieces."
The future seemed grim, but then World Vision started the child protection program in Bangladesh.
World Vision staff approached parents of working children encouraging them to allow their children to attend the Child Friendly Learning and Recreation Centers. Kids would receive informal education to prepare them to return to school.
"As a mom, I am thinking of something better for Sadia." - Bilkis
Trainings helped parents understand the long-term importance of education.
For the program to be truly effective, World Vision had to address the economic need that drove parents' decisions in the first place.
First, they provided a one-year grant in monthly installments to compensate for the child's lost income.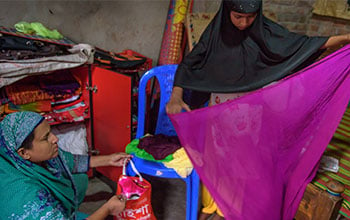 Bilkis is an entrepreneur who has expanded her fabric business to now also sell toiletries and jewelry, thereby increasing her family's income. (©2018 World Vision/photo by Laura Reinhardt)
Then they helped parents start new businesses that allow them to increase their earnings. For Bilkis, World Vision provided the original inventory for a fabric business. As a natural entrepreneur, she has expanded her business to include jewelry and toiletries.
A survey of participating families showed that 94% of the households increased their monthly income by an average of $31. That means that 100% of these families can now afford three meals a day and 95% can afford to pay for school expenses.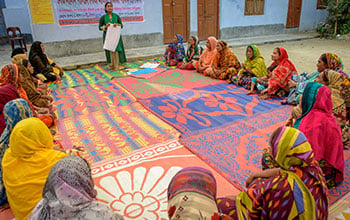 Through World Vision's Positive Parenting trainings, Bilkis learned about children's rights, the impact of child labor, consequences of child marriage, as well as parenting best practices. (©2018 World Vision/photo by Laura Reinhardt)
Bilkis attended our Positive Parenting trainings. Before she took these classes, she believed a 12-year-old girl to be ready for marriage, but now she understands that, really, a girl is physically a child until the age of 18.
"[The class] helped me to change my mindset," says Bilkis. "As a mom, I am thinking of something better for Sadia."
World Vision staff sat with Bilkis and Sadia helping to create a vision board of dreams — from quickly achievable goals to goals designed to stretch them. This art piece hangs prominently in their home to remind them of what they've accomplished and what still remains.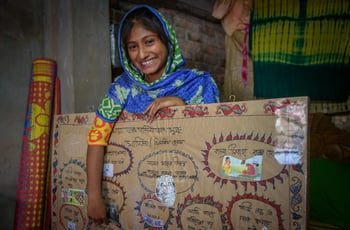 Sadia holds up her family's vision board, which is part of World Vision's child protection program that encourages families to dream of a better future. (©2018 World Vision/photo by Laura Reinhardt)
Sadia, who is back in school in the eighth grade, dreams of being a nurse.
Bilkis' new business gives her more time to be a better mother to all of her children. "I was never able to pay good attention to my children because when I worked at shrimp depot, both Sadia and I were very tired all the time. We could not help each other."
Today Bilkis and Sadia work together to pursue those dreams that once were stolen from them, and it is truly a happy mother's day.