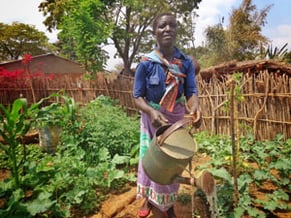 Monica now has water to grow vegetables in her backyard garden
Access to safe water continues to be a challenge in most parts of the developing world, including Malawi. This was true of Zgalambe village in the Mutchenda Area Program, where Monica Phiri and her family live. The only source of contaminated water was the nearby river about 2 kilometers away from the village. At the same time, no person would ever think of having a backyard vegetable garden that could be a source of vitamins and other nutrients good for the health of children and adults. Research shows that every day nearly 1,000 children die from diarrhea caused by contaminated water, poor sanitation and unsafe hygiene practices.
Just as diarrhea heavily contributes to malnutrition in children, the lack of essential vitamins and other nutrients can lead to malnutrition in children. "With the scarcity of water, we could not afford to open up backyard gardens in the village. The contaminated water we used to get from the river, was used sparing," nar-rated Monica. As a community, they had no chance of growing backyard gardens that could boost nutrition or earn income for home use.
The story of Monica and many others in the village changed with the arrival of the World Vision's Water, Sanitation and Hygiene (WASH) Project. Through this project, communities now have easy access to potable water for improved health. For Monica and others, this borehole has not only provided safe water, but it is a good source of income and a nutritional boost. The borehole is now just a few meters away from her home. Seeing this, Monica and her husband decided to establish a backyard vegetable garden. Using the water from the borehole, they are able to water their various types of vegetables within the garden. They are successfully growing mustard, Chinese cabbage, rape (another plant in the mustard family), tomatoes, beans and onions. Using the skills and knowledge gained from the WASH project, Monica and her husband's backyard garden has become a source of learning to other community members.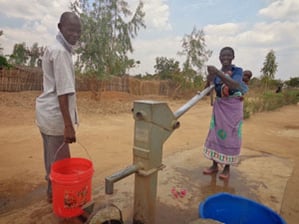 Monica operates the borehole pump as her husband Steve collects the clean water
Monica and her family have reaped multiple benefits from the borehole. Apart from accessing safe water, they have been able to sell some of the vegetables and earn an extra income. "With the money we get from vegetable sales, we are able to buy other basic needs for the family such as soap, sugar and salt. On a daily basis, we are able to have a little cash from the sales. This was never the case before," explains Monica. As a family, Monica and her husband believe the borehole has brought many blessings. Together with their children, they are enjoying fresh vegetables and a new found income. "Thanks to World Vision for bringing us this borehole that has come with multiple benefits," said Monica, with a smile.