Gary and Judi Mittelstaedt are members of World Vision's National Leadership Council. This is their story.
In the earliest days of World Vision's budding ministry, when Judi Mittelstaedt was a little girl, she had the opportunity to hear founder Bob Pierce speak at her church. Judi's parents also welcomed visiting missionaries into their Pasadena, California, home. During those visits, Judi was particularly gripped by the missionaries' stories of suffering children.
She'd wonder, "Why me? Why am I so blessed to live in America, well cared for in a Christian home, while other children must suffer?"
When Judi began dating her future husband, Gary, in college, she discovered not only that his family had also hosted many missionaries, but that sharing from one's own resources to meet the needs of others was a priority for Gary just as it was for her. The couple notes, "It was a huge part of what drew us together."
When Gary and Judi were raising their own children, near Portland, Oregon, they sponsored a little girl in the Philippines, Mafeth, through World Vision. This sponsorship connected the Mittelstaedt family to the needs of children around the world.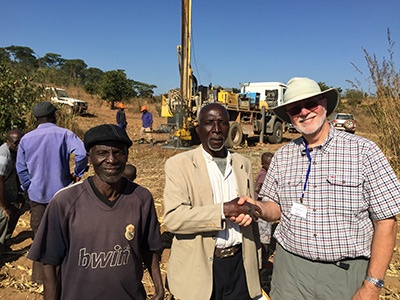 Gary shares a congratulatory handshake with Zambian staff after the successful drilling of a bore-hole.
The couple enjoyed traveling together on mission trips to China, Mexico, and El Salvador. Then, in 2010, when their own children were grown and launched, the couple joined a WaterAfrica trip to Zambia with World Vision. While there, both Gary and Judi were gripped by the organization's approach to addressing poverty.
Inspired to join the effort, Judi explains, "I've been involved in many mission opportunities over the course of my life, but nothing has resonated with my soul like partnering with World Vision. I believe God created us holistically—mind, body, and spirit—and that is how He intends us to reach out in His name."
Gary adds, "We became gripped by the World Vision holistic approach in addressing poverty with water as a foundation. Helping people in need help themselves aligns perfectly with our passion."
When they serve together, the two work in tandem, using the gifts of "head and heart" that they've been given. Gary, blessed with an engineering mind, puts his leadership, problem solving, and organizational skills to work to identify the root causes of problems. And Judi draws on her experience as a school counselor and victims' advocate, and also reflects God's heart by interceding in prayer for the vulnerable.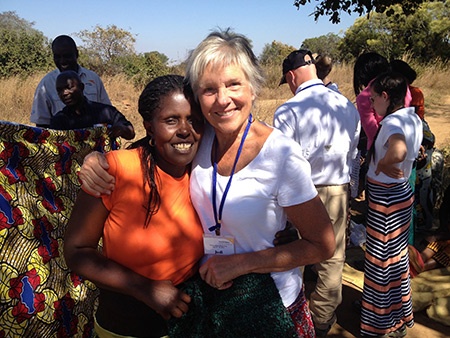 Judi embraces a World Vision beneficiary in Zambia
The experiences with and for the poor that have brought each of them joy reflect their unique giftings as well. Gary cites the opportunity to witness a creative solution World Vision implemented to help Zambian dairy farmers: a milk collection facility that cooled the cows' milk before it could be transported to market transformed the lives of hundreds of local farmers. And Judi describes the bittersweet privilege of hosting the Deputy National Director of World Vision Zambia, Chikondi Phiri, in their Oregon home. When Chikondi discovered that his wife had gone into premature labor, and delivered their daughter in Zambia, the couple enjoyed a holy time of prayer with their Christian brother, sharing in both his joy and his sorrow.
Today the seeds that were planted in both Gary's heart and Judi's heart so long ago continue to grow and bear fruit through the couple's commitment to God's work in the world.
Want to see your blessings bless those born into poverty? Get involved by sending an email to the NLC Helpdesk.