Michelle Brouhard is a member of World Vision's National Leadership Council. This is her story.
A few years ago, Michelle Brouhard, who lives in New York City, worked through a Bible study on Nehemiah. As she did, she prayed for a heart that would be broken by that which breaks the heart of God. That vulnerable and dangerous prayer was, for Michelle, the beginning of an exciting adventure with God.
When Michelle received a call from a friend who shared his concern about the global refugee crisis, Michelle recognized God's gentle prompting. Her friend, who was Jewish, wanted to host an interfaith fundraiser to raise money and awareness about the plight of refugees. He said that if Michelle wanted to join the group he was organizing, she'd need to partner with a Christian organization that worked with refugees in the field.
As she surveyed the landscape of Christian organizations working among refugees, she discovered the work of World Vision. After connecting with a World Vision representative, Michelle went on a Vision Trip to Jordan, where she was able to visit a refugee camp. Michelle gushes, "That trip was the springboard that fully transformed my heart. Seeing what World Vision was doing in Jordan inspired me to use my gifts to serve the poor and marginalized."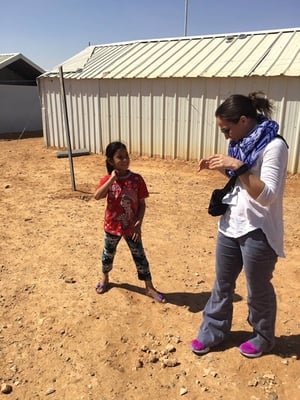 Michelle visiting a refugee camp in Jordan
When she returned home, Michelle began to learn more about World Vision's economic empowerment programs. Her personal interest in economics and finance meshed perfectly with World Vision's work to eradicate extreme poverty through micro-finance loans.
Today Michelle is passionate about serving others with both the financial skills and the financial resources she's been given. Michelle observes, "The more that I give away, the more the Lord blesses me with." She adds, "It's an exciting mission from God and one that I take very seriously." Last year, at the World Vision conference, Michelle heard God and Money authors Gregory Baumer and John Cortines say that when they left the earth, they wanted to leave empty. That passion to pour everything out in service to Christ fueled Michelle's commitment to live as a generous and sacrificial servant. She says, "That's exactly how I want to live my entire life."
At the refugee camp in Jordan, Michelle was the recipient of this kind of radical sacrifice. A referee of one of the children's soccer games in the camp invited Michelle to his simple home to meet his wife and children. Delighted to welcome her, the family served Michelle coffee and ice water. In a community where no one had a job, and residents were given only a small stipend to buy essentials from a community store, the family had taken the little they had and spent it on Michelle. As she cried herself to sleep that night at the hotel, she marveled, "How could someone with nothing give me—someone with everything—such a treasure? And with such joy?" Humbled, Michelle witnessed the very generosity to which she aspires.
As she sets her eyes on Jesus, who gave everything he had for the world he loved, Michelle is patterning her life of joyful giving after His.
If God has opened your eyes to the world He loves, and you want to engage further, contact the National Leadership Council helpdesk.