Gail and Olin are members of World Vision's National Leadership Council. This is their story.
Gail Flander Jones was the oldest of seven siblings when her father left the family's home. As the oldest child in a family that depended on welfare, Gail encountered many well-meaning helping professionals. Unfortunately, she reports, those who were Christians often seemed to care more about her beliefs than her pain.
Gail explains, "I did not appreciate most efforts to help me, which came with judgment and pressure to step up, but with very little understanding and love."
Olin Jones' life began somewhat differently than Gail's. His parents wanted to instill in him an understanding about the larger world, its cultures, its variety, and its beauty. So they began taking him outside the United States when he was ten years old. On these adventures, when Olin began to notice varying degrees of wealth, he began to wonder what God had in mind when he created us.
Olin reflects, "Eventually, I started to think that perhaps we were meant to love one another, help one another, and live in harmony together."
The couple met in adulthood at a friend's home, in San Francisco. Two years later, Olin introduced Gail to Christ. Gail marvels, "Imagine my amazement and delight when I encountered God's love for the poor, those who are hopeless and without options like I was, and his amazing mercy and grace." The couple married in 1996, blending their existing families. Since then, they've both had opportunities to use the gifts God has given them in service to the poor.
Having been re-identified by Christ, Gail elaborates on that opportunity to serve, "As I walk with Jesus, my passion has changed from proving I am worthy to serving others with dignity." As someone with a tender heart toward at-risk women and children, Gail is committed to equipping, encouraging, and unleashing kingdom leaders, especially those who are serving the poor. She notes, "Partnering with World Vision gives me the opportunity to serve both leaders and the poor."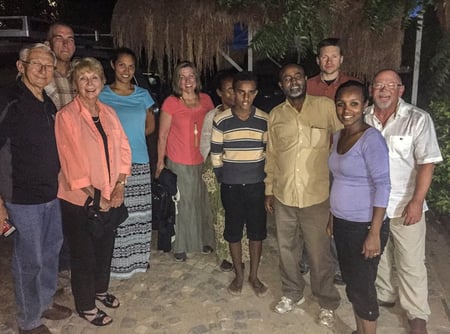 The Jones and Whites on their Vision Trip to Ethiopia
Olin, who is also committed to sharing his time, talent, and treasure, reports that World Vision also gives him these opportunities. "Personally," he reflects, "it's a chance to live more like Jesus, whose ultimate purpose was giving his life to restore the world and its relationship with God."
Recently, when the couple's youngest son, Justin, and his new wife, Shar, wanted to serve the poor, Jerry and Mary White, friends of Olin and Gail, helped them get involved. They even joined Olin, Gail, Justin, and Shar on a Vision Trip to Ethiopia (view photo album from the trip below).
Olin raves, "Joy is when I see my daughter-in-law Shar teaching art through a translator to young children in an open-air schoolroom. The joy is evident on all faces: Shar, our son Justin, my wife Gail, the students, the teachers, and even the village members looking into the classroom through the windows!" Olin playfully adds, "I think it also put a smile on God's face."
It's the same smile that shines on Gail and Olin.
To learn more about offering your time, talent, and treasure to God's mission in the world, contact the NLC helpdesk for more information.