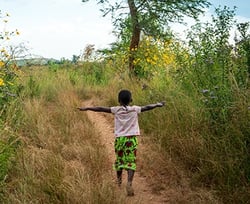 The evidence is indisputable. When girls and women have better access and opportunity, progress is accelerated. Children are better cared for, families are stronger, and communities are more prosperous. World Vision has been deeply engaged in gender equality work for decades. It's integrated into everything we do— at every stage of a girl's life.
As a baby, she has a greater chance of survival because her mother has prenatal appointments with a trained health worker.
When the clinic has clean water, she is delivered safely, in a sanitary environment. And when her parents gain knowledge about good nutrition, she grows up stronger.
As a child, she is free to play and go to school because she doesn't have to spend her days walking long distances for dirty water. Clean water is available right in her village.
She can stay in class and participate in learning even during her monthly cycle because of the latrines built to offer privacy at her school.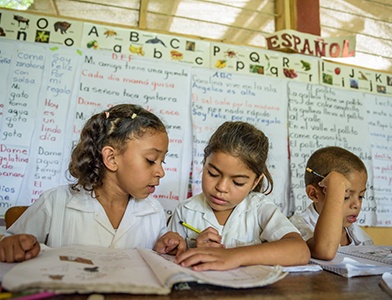 Classroom scenes at Pedro Nufia School in Jamastran ADP (Taiwan-funded), Honduras.
And with an education, her contributions can be even greater.
In her community, she is safe and protected. Leaders begin to shift long-held attitudes and mindsets, helping people recognize the harm and injustice of gender-based violence and child marriage.
She learns about her rights and about her value as a beloved child of God.
She can become financially literate, learning how to save money and apply for a loan.
She can acquire vocational skills and start her own business or become adept at farming and yield a better price at market for her family's crops.
When given the chance, she can achieve. And when she does, she will share that success with her family. She can become a leader in her community and use her voice, her strength, and her determination to make a difference.
In everything World Vision does, we seek to build people up. All people.
Join us in our commitment to gender equality. Because when girls and women are empowered, everyone wins. And when her potential is unleashed, extreme poverty doesn't stand a chance.
Pray: Join us in praying for safety, protection, and increased opportunities for girls and women around the world.
Give: Help lift women and their families out of extreme poverty.
Learn more about World Vision's work to empower women and girls.