2020 was truly a year like no other. COVID-19 turned our lives upside down. Our country suffered loss on many levels. And the impact of the pandemic was felt globally, especially among vulnerable children and families in the world's toughest places.
But even in times of trouble, God never stops working in our lives, inviting us to align our hearts and plans with His. He wants everyone to enjoy fullness of life in His kingdom — not just here on earth but for eternity. John 3:16 sums up the true meaning of Christmas: God gave us Jesus so we can have eternal life. Despite all that we have gone through here on earth, it makes our heart joyful thinking it!
However, to many, many children and families, joy is almost unthinkable — replaced instead by hunger, unemployment, disease, and grief. Families in the United States spend hours lining up for food, an unimaginable reality to many of the same families just weeks or months ago. How can you help? Provide a gift of hope.
Your gift brings joy multiplied
This Christmas, when you give to the World Vision Fund, you will help fill the pantries of your neighbors during the Christmas season. Yet, it goes further — you're also helping meet the needs today and beyond — empowering generations to rise above poverty and build futures once thought unreachable. You'll show Jesus' love in some of the world's toughest places, helping us go beyond quick fixes to provide comprehensive solutions like clean water, healthcare, education, and access to financial services. Your gift tackles injustice to protect children, bring emergency aid when devastation hits, and equip families to thrive — for good.
It even combines with public grants in countries, including the U.S., that allow your gift to multiply in impact. That food to pantries? Multiplied. Money for medicine? Stretched even further.
Inspiring hope from a sponsored child
The best perspective is told from that of 4-year-old Masrafi in Bangladesh, a boy World Vision U.S. President and CEO Edgar Sandoval Sr. and his wife, Leiza, sponsor. Masrafi's dad, Alomgir, previously earned about $3.50 a day molding bricks, but work dried up during the pandemic. Alomgir and his wife, Surmi, worried about paying rent and feeding their son.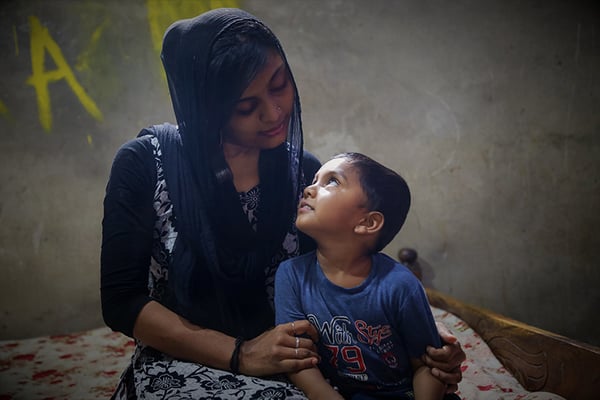 World Vision was there in Masrafi's community. Staff helped families protect themselves against COVID-19 with prevention information and hygiene supplies. Those without income, like Alomgir, received cash disbursements to cover basic needs. And World Vision's child protection programs shielded kids who were at greater risk due to the stress of the lockdowns and unemployment.
It's just one example of how World Vision served children and families in vulnerable communities this year, thanks to the generosity of partners like you. With your gift you also gave hope. And in God's timing, that can lead people to the source of all hope: Jesus Christ. Rather than the year the coronavirus spread chaos, it was a time when followers of Jesus spread hope. Won't you help us spread hope in 2021?



Inspire hope this season when you help children and families. See how your gift combines with the efforts of World Vision's global reach.
IMPORTANT NOTE ABOUT THE 2020 TAX YEAR
Did you know that thanks to the Coronavirus Aid, Relief, and Economic Security (CARES) Act, the cap on cash contributions to charitable organizations like World Vision has been lifted from 60% to 100% of adjusted gross income if the gift is made in 2020? Gifts to donor-advised funds, supporting organizations, and private foundations are not eligible for this provision.